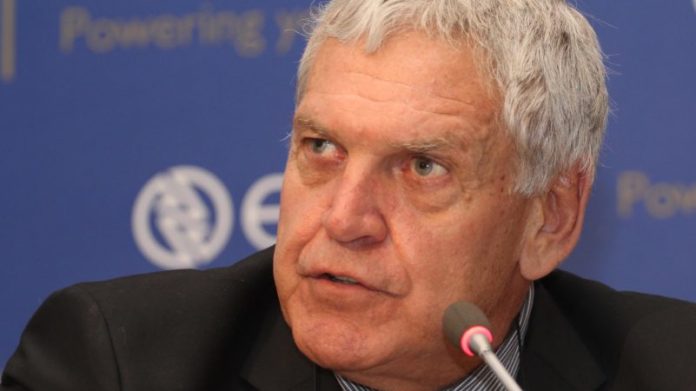 SOUTH Africa's state-owned power utility, Eskom, today cleared its COO, Jan Oberholzer, of wrong-doing following a two-week investigation.
Oberholzer, who took up his current position after returning to Eskom in 2018, faced two allegations of a conflict of interest, and of secondly victimising an employee who had made a submission to the state-capture commission about an alleged wrongdoing.
The victimisation allegations were submitted by the civil organisation, Corruption Watch, and the South African Federation of Trade Unions (Saftu) in letters to Eskom.
Eskom said senior counsel appointed to run its investigation had "… found no basis to the allegations of dishonesty, corruption, conflict of interest and abuse of power levelled against the COO".
The matter of a conflict of interest was an allegation previously laid against Oberholzer and involved whether he benefited from the award by Eskom of a contract to Stefanutti Stocks, the construction and civil engineering company.
Oberholzer serves on the board of Steffanuti Stocks and has shares in the company. He was an executive director of Steffanuti Stocks from 2010.
Oberholzer had made proper disclosure regarding his shareholding in Stefanutti Stocks, and that "… this is not a matter in which he should face a disciplinary hearing", said Eskom citing senior counsel. The investigation came to a similar conclusion that Oberholzer had not personally benefited from a R12bn tender awarded to US firm, Black and Veatch, in 2008 for work on the Kusile power station project.
It is thought that Black and Veatch delivered shoddy work that severely impeded the successful commissioning of Kusile. Senior counsel could "find no fault or other improper conduct on the part of Mr Oberholzer insofar as this transaction is concerned". As GM of Eskom's capital projects at the time, Oberholzer was responsible for the award of the tender.
In respect of the alleged whistle-blower, the investigation could "… find no wrongdoing in the process followed by Mr Oberholzer in this regard". The relationship between Oberholzer and the employee who made allegations of victimisation had been "… characterised by tension", but there was no victimisation, senior counsel found.
Eskom also confirmed it would defend a R42m claim levelled by Aveng, a construction company, earlier this week. Aveng's claim is for the non-payment of amounts allegedly owing for the Majuba rail project in Mpumalanga province.
The matter is scheduled to be argued in the South Gauteng High Court during May. "The board will therefore await the outcome of these proceedings before deciding whether there is a need for any disciplinary action against any employee," it said.