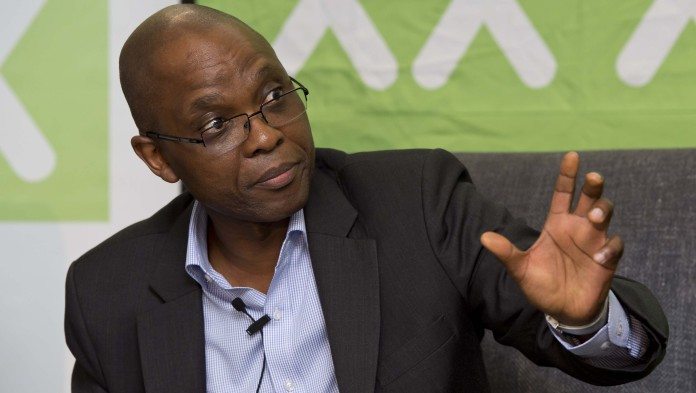 SANCTIONS on Russia in the wake of its invasion of Ukraine could herald a shift in Europe's energy market that could see it turn to South Africa for high quality coal, said outgoing Exxaro Resources CEO, Mxolisi Mgojo.
Mgojo's comments follow statements by the European Commission that it was seeking to lessen its dependence on Russian supplies of energy. "Our aim is to cut the Kremlin's capacity to wage war on its neighbours," said the commission's President Ursula Von der Leyen earlier today.
"We need to get independent from Russian gas, oil and coal. Our resolve to go forward in this case is stronger than ever," she added.
Mgojo said many of Europe's coal-fired power stations were designed to burn high quality coal that might be difficult to source elsewhere. Given that Russia supplies 60% of Europe's coal the continent might have "a price shock" in store.
Exxaro would be able to fill some of the deficit. "We've got the products," said Mogjo. "We only need to get it there." Mgojo was speaking at Exxaro's full year results presentation in which the group posted a 58% improvement in headline earnings of R46.83/share.
These earnings were delivered despite "severe" logistical constraints on the rail line from Exxaro's mines in Mpumalanga and Limpopo provinces to Richards Bay Coal Terminal (RBCT). Exxaro's thermal coal exports were a third lower at 7.6 million tons (Mt) in 2021 and are set for the same level this year compared to 12.2Mt in exports in 2020.
This occurred amid a 90% benchmark price improvement in the fuel and a 100% price improvement for Exxaro's products which sold for an average of $96/t in its 2021 financial year.
Logistical constraints relate to security breaches on the coal line which is managed by Transnet Freight Rail (TFR), a division of government-owned freight and logistics company, Transnet. TFR has struggled with regular occurrences of sabotage, vandalism and copper cable theft as well as more profound issues regarding spares procurement.
The upshot is a major opportunity cost handed to Exxaro by its own government and the possibility of this being repeated even as additional demand is created in Europe.
While Exxaro said it was adept at customising the quality of its export products for the best margin, Transnet's problems highlight their choking effect on the private sector. Total thermal coal deliveries by coal miners in South Africa to RBCT in 2021 declined by 12Mt.
Transnet problems are "systemic"
Transnet's difficulties were systemic and "bigger than TFR", but there had been improvements in the security problems recently, said Nombasa Tsengwa, head of Exxaro's minerals division and CEO-designate.
There were some successes, however, she said.
Weekly security incidents on the rail line from Mpumalanga to RBCT had reduced significantly from their "very high peak" several months ago, said Sakkie Swanepoel, GM of Exxaro's coal marketing business. "Goodness knows how high it might have gone.
"The issues Nombasa mentioned on the security front such as sabotage, security, cable theft, vandalism need alot of time," he said. "The coal industry is supporting, but we need a lot more effort at the government level and those discussions are underway."
Another short-term problem that was "to some extent out of TFR's hands" was the availability of locomotives as it was struggling to secure spares related to "legacy issues in the country", said Swanepoel. Efforts were being made to identify local manufacturers, however it would "take time" to nail down reliable supply.
TFR was currently sourcing spares from other locomotives and transferring them to units that required them, he said. "We are hopeful that towards end of 2022 we should see good progress on that front. We have not lost hope but we are measured in our expectations."
Europe "a huge opportunity"
Swanepoel said Exxaro was unique in the flexibility of its coal products in terms of matching its energy content to the best spot market. "In the context of geopolitics as we've come to see it in the past week, you can just imagine Europe is quite anxious.
"It may see the logic of strategically diversying their supply base again. That can be good for South Africa, and even better for Exxaro with its product flexibility. We see it as a huge opportunity to which we can play to in the future," he said.
Exxaro said on Tuesday that Mgojo would step down from Exxaro a year earlier than planned in July making way for incumbent Tsengwa. He leaves the company in good shape but ahead of an ambitious transition in which it wants to source a fifth of its future EBITDA from mining other minerals such as manganese, bauxite and copper.
The improvement in Exxaro's earnings was also a result of a R2.66bn dividend from its stake in Sishen Iron Ore Company, which was 48% higher year-on-year.
Exxaro declared a final dividend of R11,75/share reflecting the firm's new dividend policy adopted in March which is based on a cover ratio and a pass-through of the SIOC dividend. This was to allow for investment in Exxaro's renewable energy and the new minerals business. The total dividend distribution for the year is R32,52/share.