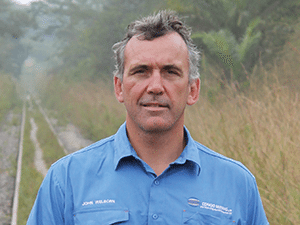 [miningmx.com] – EQUATORIAL Resources will turn its hand to the hazardous task of raising money for its Mayoko-Moussondji iron ore project following publication of a pre-feasbility study that found it would cost $181m to build.
First, however, the Sydney-listed firm must sign a mining convention with the Republic of Congo (RoC) where the project is to be built. It was approximately at this stage that an adjacent project by Exxaro Resources foundered.
"The key to project development will be the strong support of the RoC government as the owner of the rail and port infrastructure and the primary stakeholder in the project," said John Welborn, MD and CEO of Equatorial Resources.
Typical mining conventions in the RoC – which require the approval of its parliament – include a 3% revenue-based royalty, a 10% free-carry and an agreement on fiscal terms which may include a reduction in the maximum corporate tax rate of 34%.
Equatorial Resources said in its pre-feasbility study that it expected to win "various tax holidays" over a 10-year period for the project.
Future financiers of the project – which Welborn said could be at corporate or project level – will no doubt seek assurance over the prefeasibility's assumption of total 'capital intensive' costs of $74/t of iron ore (fines product).
Iron ore development and operating companies have struggled this year following a heftier than expected decline in the price of the mineral.
From about $140/t two years ago, iron ore is currently trading around $70/t, 50% below the $135/t it recorded at the beginning of the year.
London Mining, which operated the Marampa iron ore mine in Sierra Leone, was forced into administration after defaulting on a $200m loan. The asset was rescued by mining entrepreneurs Tony Sage and Frank Timis whose company African Minerals is seeking the sale of a portion in its Tonkilili iron ore project in order to handle liquidity problems.
Equatorial Resources has assumed a long-term iron ore price for its product of about $77/t freight-on-board Pointe Noire, the RoC's major port and the destination of iron ore from Mayoko-Moussandji, some 465km away.
Interestingly, the capital outlay identified by Equatorial Resources is some 21% lower than the $230m in capex estimated by the company a year ago. The pre-feasibility has also scoped for a 2.5 million tonne/year (mtpy) project compared to 2mtpy in December.
All in all, Equatorial Resources has predicated its project on indicated reserves, equal to 30% of the total resource, which would provide a four year payback over an eight year life of mine.
The project would be phased with some $134m being expended in order to build production of 1mtpa in year one, increasing to 2.5mtpa over the next thee years with only minor increases in capital outlay over the remainder of the build-out.
The state-owned transport company has committed to improving the quality and capacity of the rail link to Pointe Noire whilst Equatorial Resources will lease rolling stock (probably from South Africa's Transnet) and commit to building a rail load-out facility at the port, the extension of the rail line to its mine and a port siding.
Equatorial Resources held cash of $40m compared to $50m in cash a year ago – a relatively conservative burn which is just as well considering the time it may take to raise the necessary funding, or agree to an equity-based transaction.
Market conditions could not be more difficult.
Iron ore prices have been forecast by Citigroup to fall below $60 per ton in 2015. "We expect renewed supply growth to once again drive the market lower in 2015, combined with further demand weakness,' said its analyst, Ivan Szpakowski in an article by Bloomberg News.
The mineral will average $72/t in the first three months of 2015 whilst second-quarter forecast prices were cut to $65 from $80/t. Third quarter prices were reduced to $60 from $78/t, he said.
Numis Securities said the prefeasibility study produced 'strong numbers'. "The company has $40m in cash so has leeway to get it right. A strong set of numbers and one of the few African iron ore plays likely to make it, in our view," it said in a morning note.