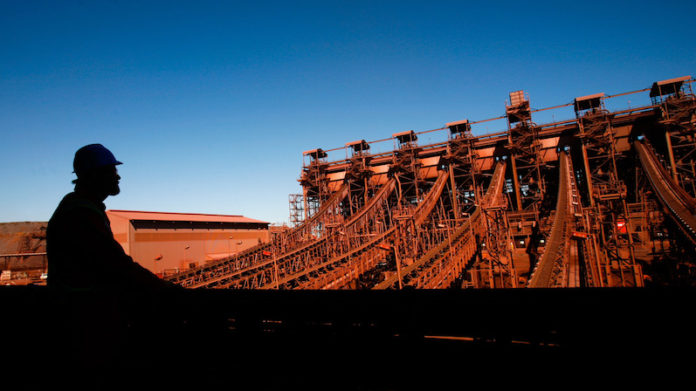 KUMBA Iron Ore declared an interim dividend of R9.9bn taking overall payouts to shareholders in 2019 to R13bn, including the end-2018 dividend, amid buoyant market conditions in which the iron ore price soared 57% in the six month period.
The interim payout represented 98% earnings payout ratio, well above its target range of 50% to 75% of earnings and was an indication of management's comfort with cash flow performance for the remainder of its financial year, operational hiccoughs notwithstanding.
Kumba's performance raises the prospect of a larger than expected dividend from Anglo American which is due to report its interim results on July 25. Anglo owns 70% of Kumba, a company is considered selling in 2017 amid a melt-down in commodity prices.
"Our aim in the second half is to further improve on our safety performance, increase production volumes and deliver on our cost-savings target of R700m, in continuing to achieve maximum market premia," said Themba Mkhwanazi, CEO of Kumba.
Unscheduled plant maintenance and other events resulted in lower-than-expected iron ore production of 20.1 million tons (Mt), an 11% decline year-on-year. Sales were kept level as the firm sold finished stock, but full year production guidance has been taken down to 42Mt to 44Mt from 43Mt to 44Mt.
Goldman Sachs said in a report that at the current clip, Kumba would probably maintain the payout ratio. This would take the dividend from an interim number of R30.79/share to a total dividend of R61/share.
Kumba CFO, Bothwell Mazarura, said in a media conference call this morning that the firm was comfortable with paying out excess cash above its 50% to 75% earnings payout ratio. "Where was have the excess cash, we will look to do a higher payout. We have already exceeded our entire payout for 2018," he said of the interim dividend.
Cash flow generated from operations increased to R19.2bn (2018: R6.9bn) which resulted in the group as of June 30 ending with net cash of R18.8bn after capital expenditure of R2.2bn and the R6.6bn final 2018 dividend.
Kumba produces a high value niche product that commands a premium in a 'normal market', but conditions for iron ore pricing are unusually strong albeit on the back of tragedy. The tailings dam disaster at Vale's Brumadinho in January has seen Brazilian authorities clamp down on iron ore exports until an investigation is completed.
Iron ore exports from Brazil reached 29.5 million tons (Mt) in June, a decline of 16.7% year-on-year whilst exports from January to June were 10.1% down at some 161.8Mt. The supply issue has also been compounded by improved demand from China.
Analysts, however, are sceptical sky-high iron ore prices are advantageous to iron ore producers in the long run as it encourages significant volumes of new production. Guinea's government said yesterday it was reopening tender bids for Simandou – its massive iron ore prospect.
According to Morgan Stanley, current iron ore pricing would see a three-year payback on Simandou assuming $250 per ton capital expenditure. "We clearly understand things aren't that simple. However, this is one reason why, in our view, current iron ore prices aren't in the big four's best interest over the medium-term," it said.
However, Timo Smit, Kumba's executive director for marketing, said there was no reason to think the iron ore price would cool, at least during the second half of the year.
Smit said "some smaller players" had entered the iron ore market selling 15Mt to 20Mt but the ability of Vale to ramp up back to normal production levels to about 380Mt a year was in question. Vale was on course for 320Mt in production this year, he said. "They say it could take two to three years [to get to 380Mt], but it could take longer."
The more significant short-term factor influencing the market was the sustainability of the 10% growth in stainless steel production in China which was benefiting from the country's stimulus efforts in the wake of its trade war with the US. Should stainless steel production soften on the back of a cessation of China economic stimulus, there would be a pull back in iron ore pricing. "There may be some pressure in 2020," said Smit.