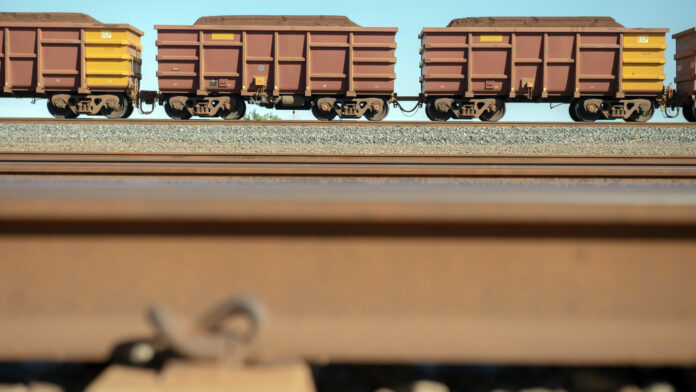 A NEW derailment on the Sishen-Saldanha rail route is preventing deliveries of iron ore for export, said Transnet's freight rail business unit (TFR).
"TFR confirms that urgent recovery efforts are underway to restore operations to its Ore Corridor," it said today. This was after a derailment of wagons in the early hours of Wednesday (June 7). "TFR teams were dispatched to the scene immediately and recovery efforts began in earnest," it added.
Derailments on TFR bulk mineral rail routes are a frequent occurrence, often as a result of vandalism.
On Monday (June 5), 20 wagons loaded with iron ore derailed near Loeriesfontein in the Northern Cape. This followed the theft of 20 spans of cable on Sunday (June 4) affecting exports from Kumba Iron Ore's Kolomela mine.
In an event on Tuesday (June 6), thieves fled the scene after being detected attempting to steal 280 metres of cut contact wire and 280m of canternary wire, said Transnet.
In May, it was reported that TFR had asked the state to help it remedy chronic copper cable theft that has reduced operations by up to three quarters this month.
BusinessLive said the securing TFR's network "is beyond us as a company", citing Rudzani Ligege, managing executive for TFR's Gauteng to Durban corridor. The 740km container corridor is used to transport agricultural and automotive goods, grain, fuel, chemicals, coal, manganese and chrome, said BusinessLive.
"I wouldn't want to say we are losing the fight because when we put in the interventions there is a big difference in theft incidents … arresting people on the ground is just one intervention point. We also need to work on the convictions," Ligege told the publication.
During the previous financial year, the container corridor lost 591km of cable due to theft with the amount spent on security interventions "going into the billions", Ligege said, adding that the company has a budget of R1.4bn for security costs. But when a cable is damaged, TFR loses not only the cost of fixing it but also the customer's trust.
"The loss to the economy is just exponential," Ligege said.