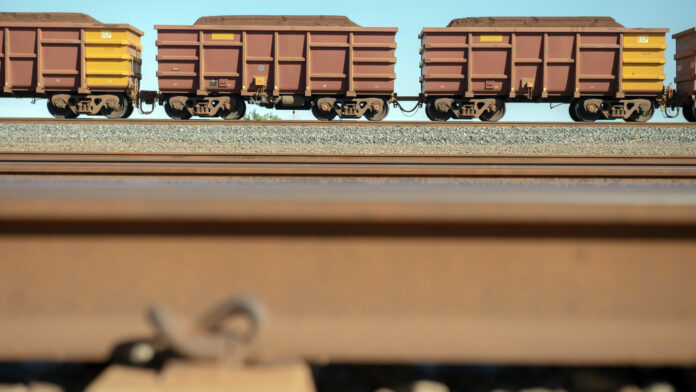 KUMBA Iron Ore cut mineral sales and reined in capital expenditure R2bn owing to lower railed product to Saldanha port for the six months ended June.
The Anglo American controlled firm said sales for the year would be between 36 to 38 million tons (Mt) from a previous target of 37 to 39Mt. The reduction was due to a 3% fall in deliveries of iron ore as state-owned logistics firm Transnet continued to toil.
Siza Mzimela, CEO of Transnet's largest division Transnet Freight Rail said earlier this week her company was held back by a lack of locomotives, crime, and a deterioration in efficiencies over the last few years.
"The iron ore and coal mining industry's ability to continue contributing significantly to the fiscus, sustain employment, and deliver far-reaching socio-economic benefits are inextricably linked to reliable logistics services," said Kumba CEO Mpumi Zikalala in the firm's interim production report.
Capital expenditure on non-critical items would range between R9bn to R10bn from a previous range of R11bn to R12bn. This was most likely due to lower waste stripping at the Sishen mine which would fall to between 195 to 225Mt (210 to 240mt).
However, the deterioration of the rand against the dollar would result in a 1% cut to costs which would average $43 per ton for the year.
The expected financial outcome for shareholders is a 13% to 22% decline in basic earnings for the six months of R9bn to R10bn. Share earnings would fall to R28.16 to R31.17/share.
Assuming the mid point guidance for sales, there would be a 6.5% downside to 2023 earnings, according to RMB Morgan Stanley. Each million ton was the equivalent of 5% of share earnings.
From a market perspective, the news was better for Kumba. It achieved an average selling price of $106 per wet metric ton compared to an average market price of $102/t. Kumba commented that the iron ore market was underpinned by low stock levels at China's steel mills.
Iron ore deliveries totalled 18.4Mt for the six months. As a result of a fall in stock levels, Kumba pulled back sales 4% to 18.9Mt (2022: 19.7Mt) for the first half. Kumba said in its interim commentary that seven days in railing was interrupted by derailments.
This offset benefits of joint efforts between the Minerals Council and Transnet aimed at improving efficiencies on the Sishen to Saldanha rail route which also included a locust spraying programme. Locust swarms seriously impacted iron ore deliveries last year.
Cable theft in June also impacted on Transnet's ability to run trains. "Increased security was immediately deployed with drones monitoring the IOEC (iron ore export channel) line in the short-term, with work being done in conjunction with Transnet to find a longer-term security solution." said Kumba.
Despite stock levels falling at Saldanha Port, Kumba's overall stock levels – mostly at the mine – increased to 7.9Mt (2022:7.8Mt).
"We view this as a commendable performance given the multiple disruptions on the Transnet rail line during the period, which had driven our more conservative expectations," said UBS in a report today.