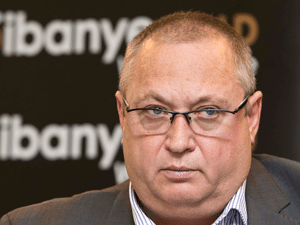 [miningmx.com] – SIBANYE Gold CEO, Neal Froneman, gave further indication his company would add platinum to its gold mining activities saying today talks with owners of distressed assets were more conducive to doing a deal.
"We are finding producers are far more realistic," said Froneman in response to a question at Sibanye's half-year and second quarter figures about progress on buying platinum assets. "The environment is becoming more conducive," he said.
Froneman told Miningmx on August 3 that the company would have "more clarity" on the sale of potential platinum assets before the month-end. He added that the company was "committed to doing something" on platinum mines.
Sibanye Gold said in the past it was interested in buying the shafts of Anglo American Platinum's (Amplats') Rustenburg or Union shafts, but after discussions began there was a sense Amplats, at a book price of R10bn, was asking too much for the mines.
Amplats subsequently raised the prospect of listing the mines if they could not be sold – a proposal that analysts criticised as unfeasible. Chris Griffith, CEO of Amplats, said in an interview with Miningmx last month that it was important to keep the option of an initial public offering as it kept competitive tension in the sale talks.
In addition to price, another potential sticking point was whether Amplats would retain the rights to smelt concentrate from the mines after they were sold.
Froneman said that owning smelting facilities was not a deal-breaker. "It is not crucial to own smelters, although it would be nice," he said. "It is beneficial to have agreements that are balanced," he added.
"I do think our patience and our discipline in not making a rushed entry at higher prices is paying off handsomely," said Froneman. It is more than a year since Sibanye said it was interested in bidding for Amplats's non-core mines.
"We are at the bottom or close to it and it's therefore opportune to make those moves," he said of timing of a bid in respect of the platinum price. "We understand the sector and see quite a lot of opportunity," he said.
"The platinum price opened in January at about $1,280/oz falling to $960/oz earlier this week which is the lowest it's been since the end of the financial crisis, around 2009, and some 25% down this calendar year.
DIVIDEND
Froneman said the company remained committed to its dividend policy despite a deterioriation in the gold price and poor half-year in which normalised earnings plummeted to R243m from just over R1bn in at the halfway point in 2014.
He blamed the performance on a slow-start to the financial year in which the company was too slow following the year-end holidays – a perennially disrputive time in the South African gold calendar.
Net debt came in at R1.7bn for the interim period ended-June compared to restated net debt of R617m in the previous financial year. But Charles Keyter, Sibanye's CFO, said at 0.26, the company's net debt to EBITDA was well below the 1x ratio which the company felt was a comfortable level.
However, reaching the targeted full-year R1bn dividend payment might prove a stretch for the company. "The R1bn dividend is a tough target," said Froneman.
"I'm not saying we will do it, but it is a target," he said, adding that the company would consider paying its dividend out of debt as it's first half operational problems were temporary. "Our dividend is sacrosanct. It features in our valuation," said Froneman.
Froneman said the company remained committed to producing 900,000 ounces in gold production for its 2015 year as previously guided.
This was a 5% decline in gold output in the first half of the year despite the inclusion of the Cooke underground and surface operations that were fully incorporated following their acquisition last year.
An unknown factor that may affect the remainder of the financial year was wage talks following the recent rejection of the gold sector's 'final offer' by the Association of Mineworkers & Construction Union (AMCU).
Said Froneman: "If we move into a strike – which is highly unlikely – management have agreed to salary sacrifices in order to weather the storm," he said.