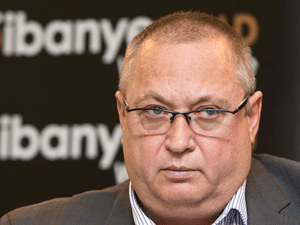 [miningmx.com] – SIBANYE Gold's cash cost margin would increase to 38% from last year's 28% should the current rand gold price be sustained throughout the 2016 financial year, the gold producer said in a trading update.
The rand gold price is currently R574,602/kg, bang in line with the average for the year to date. The increase in the margin is related to a 5% improvement in the dollar price of gold this year as well as a weakening in the rand against the dollar. The JSE Gold Index is consequently 33% higher in rand terms (28% higher in dollars).
UBS analyst Kane Slutzkin today recommended the bank's clients buy shares in Sibanye Gold for its near-term earnings and free cash flow momentum. The bank had "improved confidence in sustainability of its div[idend] yield".
JP Morgan recommended its clients remain overweight in Sibanye Gold shares and set a target price of about R52/share by 2017. The company's shares are currently trading at R34.75/share, an increase of nearly 60% in the last 30 days.
"We forecast gold to average $1,180/oz (+2%, 2015: $1,160/oz) in 2016 as interest rates normalise more slowly than expected in the US and recession risks rise," said JP Morgan Cazenove analysts Allan Cooke and Abhishek Tiwari.
"We see the rand gold price at a record R600,000/kg, assisted by a 30% weaker rand/dollar exchange rate average of R16.43/$ in 2016," they added.
In its trading statement, Sibanye Gold said gold production for 2016 would be about 1.61 million ounces, slightly higher than the 1.54 million oz produced in its 2015 financial year, a target adjusted downwards following poor production figures earlier in the year, mainly in the March quarter. Sibanye had forecast 1.67 million oz in 2015.
The company said it did not expected a repeat of last year's production issues which included a clash between members of the Association of Mineworkers & Construction Union and the National Union of Mineworkers at its Beatrix mine in the Free State.
"Gold production guidance for the year ending 31 December 2016 is forecast to increase to approximately 50,000kg (1.61Moz), with TCC [total cash costs] forecast at approximately R355,000/kg and AISC [all in sustaining costs] at approximately R425,000/kg.
"Due to the weaker rand, the rand gold price year to date has averaged
approximately R575,000/kg, which is approximately R100,000/kg higher than in 2015.
Should this gold price persist throughout 2016, the group TCC margin will increase to
approximately 38% and the AISC margin to approximately 25%," it said.