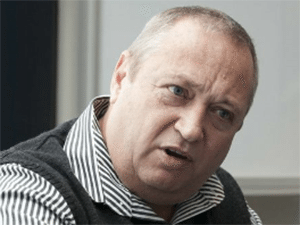 [miningmx.com] – SIBANYE Gold surprised the market with a bold 90 cents a share final dividend taking the total payout to R916m – or 100c/share – for the 2015 financial year despite lower headline earnings and a heavy R12.4bn capital bill over the next few years.
"The biggest surprise in the results was the dividend," said Goldman Sachs in a morning note covering Sibanye Gold's full-year figures for 2015. It added that the payout was as much as 78% ahead of its consensus.
The commitment to dividends is also despite the group's deal-lust continuing unabated with Sibanye Gold CEO, Neal Froneman saying he was considering dollar-based sub-Saharan gold deals, although he distanced himself from joining AngloGold Ashanti in a joint venture at Obuasi in Ghana.
He repeated a statement made to BDLive earlier this year that the company would consider moving into base metals, including copper.
"We are looking for low cost entry points," said Froneman referring to the possibility the company could bid for certain assets deemed non-core by other companies. "It is not that mining companies have decided to be less diversified; it's that they have got into trouble," Froneman said.
"These [market conditions] give us opportunity to make a low cost entry into a commodity. If we have a smart way of structuring the opportunity, small changes in the commodity price can give huge value," he added.
Froneman said he was "extremely pleased" to announce the 90c/share payout. It was lower than the R1bn flagged at the beginning of 2015 but was equivalent to a dividend yield of 4.5% assuming Sibanye Gold's average share price in the year.
The dividend yield falls to some 2% following the 55% share price appreciation in the last month, However, combining the 245% share price appreciation since listing in 2013 – equal to capital growth of R31.34/share – with dividends, the company had returned R34.58/share to shareholders.
"It's not strictly true mathematically as we have issued shares but we have returned about R30bn odd to shareholders, equal to about 55% in compound growth since listing," said Froneman. The company paid just over R1bn in dividends in the 2014 financial year and some R822m in the year before that.
Froneman said the group would stick to paying out about R1bn in earnings, although he raised the possibility of paying out more: "It will get more and more challenging and still retain dividend of R1bn," said Froneman.
"This year with margins opening up that could be different, but I don't want to say too much about that," he added alluding to the potential benefits of the increase in the rand gold price which sees Sibanye collecting R100,000 more per kilogram of gold mined.
He told Miningmx in an interview after the presentation that the company would "… very carefully consider that our dividend yield was industry leading" and that while a 2% yield was good, the company would have to double the dividend to achieve last year's 4% average.
TRICKY YEAR
Froneman acknowledged that the company had not had a good year operationally in 2015. Production fell to 1.54 million oz compared to 1.59 million oz in the 2014 financial year owing to operational disruptions and electricity shorages in the March and June quarters respectively.
All-in sustaining costs rose R50 per kilogram (fell in dollar terms) to R422,477/kg taking the AISC margin down to 11% from 15% in the previous financial year.
The outcome was a decline in normalised earnings to 134 South African cents/share compared to 270c/share in 2014. "It wasn't a good operational year," said Froneman.
Net debt was reduced to R1.4bn as of end-December 2015 compared to R1.7bn at the June 30 June mark last year.
However, the market was impressed by the outlook for the year with shares in Sibanye Gold increasing just over 7% by noon in Johannesburg. Given that shares in Gold Fields were 3% weaker, Sibanye was valued R400m more than Gold Fields, the company from which its assets were demerged in 2012.
Froneman said there was further evidence the company's shares would receive another ratings boost. "We are still relatively lowly rated against peers," he said. "We can look forward to further share price increases."
"The operational issues that affected performance in 2015 are unlikely to be repeated," the company said in notes to its financial results.
It has forecast gold production for the 2016 financial year to be 1.61 million oz with total cash costs forecast at approximately R355,000/kg and AISC at approximately R425,000/kg.