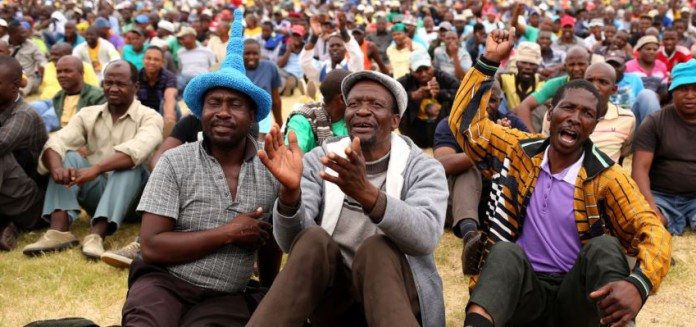 THE timing of a strike called by the Association of Mineworkers & Construction Union (AMCU) at the premises of Sibanye-Stillwater's West Rand gold assets is curious, coming less than a month before the summer holiday season kicks in.
One theory is that AMCU's attempt to improve upon the three-year wage settlement accepted this month by Sibanye-Stillwater's other three unions, including the National Union of Mineworkers (NUM), is only part of the equation.
By far the greater factor at work is AMCU's desire to widen its protest against planned retrenchments at Lonmin, the company Sibanye-Stillwater is due to take over pending a Competition Tribunal deliberation on Friday (November 23).
AMCU is arguing that Sibanye-Stillwater's merger proposal is the actual motivation behind Lonmin's retrenchments. Given the dominance of AMCU at Lonmin, and the strong relationship it has with Lonmin management, it is easy to see why it would be particularly unhappy to lose this membership.
Whether AMCU will be successful in extracting either a better wage deal from Sibanye-Stillwater, or have any effect on Lonmin retrenchments is highly questionable. The likeliest answer is no on either count.
Nonetheless, Sibanye-Stillwater has a strike on its hands.
In a society as highly tensioned as South Africa, and in an economic region as stretched as the West Rand, one can see a strike of any proportion is a headache.
What one can say is that about two-thirds of the workforce at Driefontein mine is AMCU-aligned, therefore the potential stayaway might be better observed at that mine's shafts, whereas AMCU's influence at Kloof is much smaller where the NUM predominates.
At both mines, however, there's a sizeable distribution of union power which makes the potential for disruption significantly high. Contending with a strike of its own at South Deep, which is close to Sibanye-Stillwater's gold mines, Gold Fields has opted for extreme restraint even though less than 200 NUM protestors are officially picketing.
In the background, there's always the lesson of the Marikana atrocity, and although mine communities – formal and otherwise – are not positioned in close proximity to the gold mines as they were at Markikana, the risk of societal strife is always a feature.
Officially, Sibanye-Stillwater is taking a wait-and-see approach, as well as expressing an undertaking that the safety of employees is the priority over keeping some production going. But these must be worrying times for Sibanye-Stillwater's gold assets especially as the fault lines with AMCU appear to be at the head office level which is where the wage talks have been breaking down.