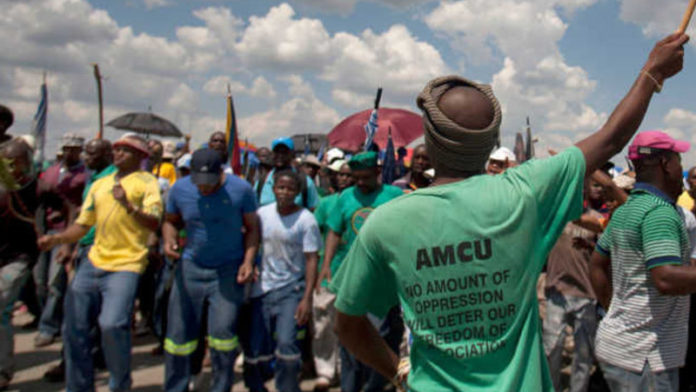 THE relationship between Sibanye-Stillwater and the Association of Mineworkers & Construction Union (AMCU) took a decisive turn for the worse today after the union called members employed at the firm's platinum assets out on a secondary strike.
Neal Froneman, CEO of Sibanye-Stillwater, said his company had been preparing for the prospect of a secondary strike at its Rustenburg operations in support of a near-two month strike over wages at Driefontein, Kloof and Beatrix, the firm's gold mines.
"Our South African PGM (platinum group metal) operations have been preparing for this outcome and as such have strike contingency plans in place to minimise the possible impact of a strike," said Froneman in a statement.
Sibanye-Stillwater said in a business update last week that strike contingency plans at the gold mines had helped minimise the impact of AMCU's nine-week long strike (at that time) with gold production coming in a whisker below adjusted guidance.
It's thought the update enraged AMCU president, Joseph Mathunjwa, and was a factor in his calling the secondary strike.
Commenting today, Froneman said Sibanye-Stillwater's profitability would also be supported by strong palladium pricing from which its US PGM operations was benefitting.
Sibanye-Stillwater was also seeking legal advice regarding the secondary strike. Whilst deemed legal in terms of the Labour Relations Act, secondary strikes are only conducted within "… constrained parameters and such strikes are not automatically lawful or reasonable," the company said.
In a separate development, Sibanye-Stillwater and Lonmin announced today that they would extend the long-stop date for completion of Lonmin's takeover by Sibanye-Stillwater. This was after AMCU filed an appeal against the transaction with Competition Appeal Court of South Africa (CAC) on the basis that the takeover would result in significant job losses.
"In light of the appeal before the CAC, Sibanye-Stillwater and Lonmin have agreed, with the consent of the Panel, to extend the Longstop Date for the scheme to become unconditional and effective from 28 February 2019 to 30 June 2019," it said. "Sibanye-Stillwater and Lonmin remain fully committed to the offer," it added.
Sibanye-Stillwater currently employs about 17,400 people at its South African PGM operations, with AMCU representing approximately 56% of the employees at the Kroondal operations and 71% of the Rustenburg operations' employees, the company said. Mathunjwa's main power base, however, is at Lonmin.
RELATIONS
The secondary strike will only heighten tensions between AMCU and the company, especially as the two sides are due to begin wage negotiations in about four months' time. "This could see AMCU out on strike twice in a year," said James Wellsted, spokesman for Sibanye-Stillwater.
The secondary strike is conducted on a no work, no pay principle as per the strike at the gold mines where AMCU employees already find that it could take up to three years to recover lost wages. "Although not surprising, the notice for a secondary strike at our South African PGM operations in Rustenburg is disappointing, as all stakeholders will be negatively affected, but more so those employees who will be exposed to the no work, no pay principle," said Froneman.
In the meantime, there's the prospect that the gold strike may yet be judged unlawful in terms of Sibanye-Stillwater's assertion that union membership at its gold mines was more than 50% with unions other than AMCU. In the event of this being proven, Sibanye-Stillwater would be entitled to extend its wage offer to AMCU which would have to accept it for face running an unlawful strike campaign.
Wellsted said there was a meeting with the Commission for Conciliation, Mediation and Arbitration (CCMA) on January 16 to discuss the process of union membership re-counts after AMCU disputed Sibanye-Stillwater's count.
"We could be supported more by our regulatory authorities," said Wellsted. It was more than a week has passed since the Labour Court asked the CCMA to conduct an independent assessment of union numbers at the gold mines of Sibanye-Stillwater.