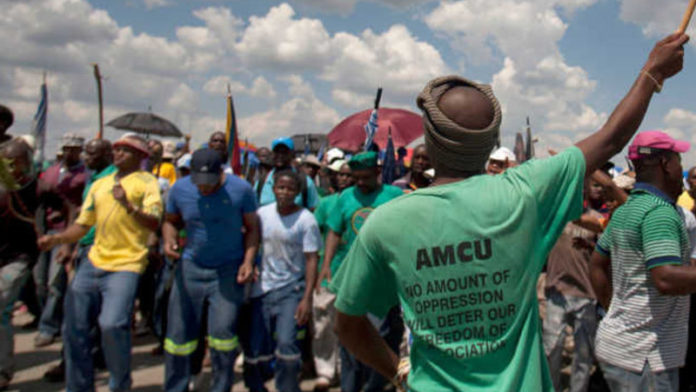 The Association of Mineworkers and Construction Union (AMCU) has issued seven-day strike notices to several gold and platinum companies in protest against Sibanye-Stillwater's plans to cut up to 6,700 jobs in its struggling gold sector.
Harmony Gold, Anglo American Platinum and Lonmin all confirmed on Thursday that they had received notices and Sibanye CEO Neal Froneman said notice had also been served on the company's platinum division, confirming a report earlier by MiningMX. Sources have told MiningMX that AngloGold Ashanti has also been notified.
"Harmony intends engaging with AMCU today to withdraw the strike notice, failing which, the company will approach the Labour Court for an urgent interdict to stop the strike from commencing," Harmony's Investor Relations Manager Lauren Fourie said in an emailed response to MiningMX.
Anglo American Platinum (Amplats) also received a secondary strike notice, confirmed Anglo American CEO, Mark Cutifani in a conference call today following that group's full-year results announcement.
Said Cutifani: "We received notice at 6.26pm on Wednesday of a secondary strike notice. This is in relation to Sibanye [Stillwater]. It won't help South Africa's platinum industry at large," he said, adding "I'm sure the Minister will look at this one and be involved in trying to make sure we land something sensible for the country."
In its notice to Sibanye, a copy of which has been obtained by MiningMX, AMCU said its member will down tools on the night shift Feb 28th and the strike will continue until the resolution of the union's wage dispute with Sibanye's gold division.
It remained unclear if AMCU has issued such notices in the coal sector – a prospect that would add to the woes of power utility Eskom and potentially hurt the wider economy given Eskom's reliance on coal to keep the lights burning in Africa's most industrialised economy.
The seven-day notice period is a legal requirement for a secondary strike but Sibanye's Froneman told MiningMX that he saw no legal grounds for the strike.
"The courts will be very busy next week. I think it will be declared an unprotected strike," he said.
Asked if the company would then fire workers who took part, Froneman said "there will be disciplinary action."
He went on to say that the AMCU protests raised questions about its leader, the fiery Joseph Mathunjwa.
"This is about his leadership. There are real questions about why he's never had an elective conference. And I think there is a political motivation behind what he is doing," he said.
Anglo American CEO Mark Cutifani said the strike threat "won't help South Africa's platinum industry at large.
It is not clear how much support there is for such action among AMCU's rank and file members.
AMCU strikes in the past have often been accompanied by violence and intimidation, though the union has always maintained it does not resort to such measures. So the industry will be waiting with a baited breath to see how this one plays out.
– Additional reporting by David McKay.