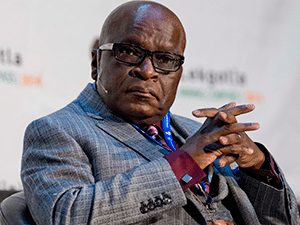 [miningmx.com] – SOUTH African mines minister, Ngoako Ramatlhodi, made an entrance of note in the early weeks of his somewhat controversial post during 2014 by directly intervening in the country's platinum strike, and then recommending that amendments to mining law be hooked.
Both interventions could have been construed as potentially business-friendly – a far-cry from the initial reaction to Ramatlhodi's appointment when it was made public on May 25 of 2014.
"As a lawyer by profession, I think he wants to understand all the issues first,' said Debby Ntombela, an attorney at Hogan Lovells. "I personally don't think his administration will be as aggressive as his predecessor [Susan Shabangu] and that he'll seek a balance between investment and transformation,' said Ntombela.
Described as "a nationalist' who was President Jacob Zuma's anointed to bring about the second democratic revolution to the mining sector, Ramatlhodi has so far come across as conciliatory.
"We have to agree what constitutes compliance and what doesn't so there are no quarrels over the outcomes,' he said in October of the mining charter audit currently underway.
The audit brings to a close a 10-year process of empowerment in the mining sector in which firms are required to meet the social and labour and equity demands of the mining charter among others.
The charter was enshrined recently in the Minerals & Petroleum Resources Development Act (MPRDA) and could result in mining firm's losing their new order mining licences if they don't comply.
"It shouldn't start there,' said Ramatlhodi who clearly doesn't want the legal complications of forcing mining companies to heel. "You explore and try to understand,' he said. Yet the mining charter audit will provoke conflicts.
One is whether mining companies that completed now dissolved empowerment deals will still win credit for them; the so-called "once-empowered, always empowered' conundrum.
The South African government has indicated in one or two precedent-making cases that the principle is not protected in the MPRDA, hence Northam Platinum's requirement to re-empower itself after its original BEE partners were forced to sell their shares.
Neal Froneman, CEO of Sibanye Gold, declared himself in February 2014 ready to fight the government in court over the matter and complained that "Government will do its best to show how we don't comply,' he grumbled.
Equally important is whether Zuma will agree with Ramatlhodi that the amendments to the MPRDA ought to be sent back for more discussion in parliament, even though the bill was picked over relentlessly for some three or four years.
At issue is not really mining at all, but the petroleum and oil industry. Ramatlhodi's predecessor, Susan Shabangu, successfully pushed through amendments which would allow the government to take a 20% free-carried interest in oil and gas projects, including fracking in the Karoo. Given that most of the world's major oil companies own concessions along South Africa's peninsula, billions of dollars in investment is at stake.
The petroleum sector didn't make a good fist of arguing the amendments but it could benefit if Ramatlhodi is able to recall them – a development that will surely see separately written legislation for the sector.
Unfortunately for Ramatlhodi, the good intentions may have bad consequences. Mining firms will have a second dip at changing those amendments that related to the mining sector such as the thorny issue of development pricing, the declaration of strategic assets which could see the government take a greater role in the coal and iron ore industries, and the broad issue of ministerial discretion.
In the meantime, attorneys worry that recalling the amendments will only prolong regulatory uncertainty in South Africa's mining sector.
"It could take years to work out now,' said Andrew Mitchell, an attorney for Fasken Matineau. "What is problematic in all of this is the uncertainty it creates and it's why we're just not getting the mining investment,' he said.