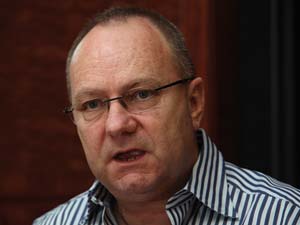 [miningmx.com] – ANGLO American may sell its South African domestic coal business in a move that CEO, Mark Cutifani, said was partly a response to government demands that new coal mines have a black-owned partner with more than 50% of the business.
"We have outlined our proposals to divest of part of our domestic supply," he said in a media call this morning following the release of Anglo's full-year figures.
"We are responding to both the government requirements to have more than 50% in local hands and, from our point of view, the domestic supply has been a good business, but it is not major in the portfolio.
"So for strategic reasons, and for government, we will drop our ownership to [below] 50% and that will include the New Largo project," he said.
Cutifani added that the transactions, if completed, would be done on a commercial basis and that the group was considering "all-comers". There had been "considerable interest" in a process that had been underway for two years, he said.
There was no intention to sell any of its export coal business which in the group's 2014 financial year sold 18.2 million tonnes (mt), a 7% increase year-on-year.
The domestic South African market is primarily to Eskom, the state-owned power utility that is currently struggling to supply sufficient electricity to the country owing to its ageing fleet and delays in commissioning new sources of power.
Sales to Eskom fell 5% last year to 37.5mt primarily owing to Eskom reducing offtake from New Vaal, and planned production decreases at Kriel prior to a move to new mining areas, the group said in commentary to its financial figures.
"We do intend to keep operating at full tilt on coal export operations," said Cutifani. "So we are in conversation with government about what works for us and what works for them," he said.
According to black economic empowerment regulations brought by the Department of Trade and Industry – Broad-Based Black Economic Empowerment (BBBEE) – newly developed coal mines must be 51% black-controlled even though competing legislation in the Mining Charter asks for 26% empowerment.
The issue around new coal supply sprang up following delays in signing of a coal supply agreement (CSA) in respect of Anglo's New Largo coal project and Eskom.
Initially, Cutifani said a way would be found to sign the CSA. However, after a considerable hiatus Eskom chairman, Zola Tsotsi said there must have been a disconnect between Cutifani and his managers.
A memorandum of understanding has since been signed in December regarding the CSA but a final deal is pending. New Largo is important in supplying coal to Eskom's 4,800MW Kusile power station, the first unit of which is due to commission in 2017/18.
According to Vusi Mboweni, the acting divisional head of Eskom's primary energy department, the utility is aiming for 55% empowerment among its suppliers, equal to 80mt per year (mtpa) by 2022 from just above 30% or 42mtpa last year.
The South African domestic coal business therefore joins a number of other assets, such as copper mines in South America and certain platinum producing shafts in South Africa which are on the block.
Cutifani said the restructuring would lead to "a new Anglo emerging from a difficult market" when it was complete. It would also help de-stress the balance sheet which saw net debt increase $2.3bn to $12.9bn year-on-year. Anglo said it had targeted net debt of $10bn to $12bn over the long-term.