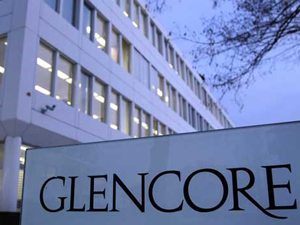 [miningmx.com] – GLENCORE led diversified mining stocks down in another dire day of trade in Johannesburg losing 27% whilst Anglo American was 10% weaker and African Rainbow Minerals (ARM) shed 14%.
Shares in Glencore were nearly 40% lower than the price paid by shareholders who earlier this month subscribed to the Swiss firm's $2.5bn equity raise – which included Glencore management – a transaction that was intended to "paralyse the shorts," according to an Investec Securities note earlier this month.
Investec again led the commentary on today's pounding saying that Glencore's attempt to lower some $30bn in net debt – by about $5.3bn – would remove nearly all of the equity value in the share and pointed to similar refinancing hazards for Anglo American.
Marc Elliott, an Investec analyst, suggested shortly after Glencore unveiled its debt reduction plans that the firm had earned some breathing space, and might even be worth holding, but he also warned of hefty downside – which has now materialised.
"Assuming the additional $5.3bn is delivered, it should be sufficient to ensure the business remains a going concern by the end of next year even if today's challenging macro environment persists," said Elliott.
"However, shareholder returns may well be minimal, with our analysis suggesting negligible earnings at spot commodity prices. If the upturn doesn't come in 2016, then further dividend cuts and asset restructurings appear likely," said Elliott at the time.
Ivan Glasenberg, CEO of Glencore, told Miningmx last week that he did not think the fears of doomsayers – who were concerned metal prices would plummet significantly further – would materialise, at least not for long.
"We don't think it [the market] will go lower. If does, and we're wrong, it can't go that way for long because alot of producers will then go cash negative and there will be closures. That is a Doomsday scenario that don't believe will come,' he said.
Investec analyst Hunter Hillcoat, said in a note on September 27 that Glencore's pain was also the sector's.
"While the picture is less extreme for BHP Billiton and Rio Tinto, they too would face a substantial challenge to meet management's apparently steadfast commitment to maintaining dividends, which we estimate would consume 50% of ongoing operating cash flows in this scenario," he said.
Shares in BHP Billiton were just over 6% lower in London at the time of writing whilst Rio Tinto was 5% down.
"We suspect Glencore's recent restructuring may prove just the start for the majors if current spot prices prevail for much longer, and this serves to support our concern that we are still a distance away from a "value point' in the mining sector," he said.
Analysts told Bloomberg News on September 10 that Anglo American may be considering cutting its dividend. "If you're going to have a problem, it's better to rip the band-aid off than not," said Rob Clifford, an analyst at Deutsche Bank.
"Glencore just did it and the stock went up. So any companies who are thinking about strengthening their balance sheet might look at Glencore's outcome and consider it as well," he told Bloomberg News.
Anglo's listed subsidiaries also suffered in a sector wide sell off with Anglo American Platinum and Kumba Iron Ore losing 7% and 11% respectively. Impala Platinum was 8% lower while Exxaro Resources was nearly 10% lower.
Quite how Lonmin will refinance its balance sheet continued to ravage the stock: it shed 10% and is now valued at R2.2bn in Johannesburg – a devastating 88% loss in value since the beginning of the year.