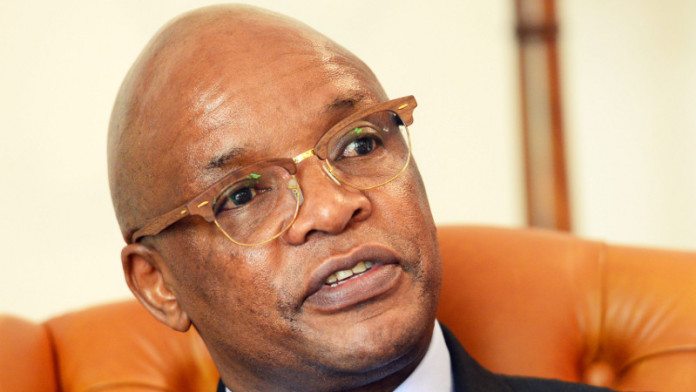 ANGLOGOLD Ashanti chairman, Sipho Pityana, today launched an all-out attack on President Jacob Zuma calling for his immediate departure from office and describing him as a man "who cannot be trusted".
Pityana was speaking at the Joburg Indaba conference being held in Sandton and he launched his attack on Zuma after being warned from the podium by the speaker ahead of him – deputy minister of mineral resources Godfrey Oliphant – to tone down his comments.
Oliphant said: "You can't take South Africans to the ballot box. The president has to run his term. If you carry on like that we will return in kind".
In response Pityana stated flatly: "I have been asked to behave myself but, sorry deputy minister, Zuma must go for the sake of the country. The elephant in the room is a president who lacks integrity; the elephant in the room is a president who is without honour".
Pityana ended his speech declaring: "We have to seize the moment and save South Africa. I have now committed treason", and was given a standing ovation by the great majority of the audience.
According to conference chairman, Bernard Swanepoel, Oliphant was not scheduled to address the conference, but had "gatecrashed it" at the last moment.
Pityana described South Africa as a country in crisis on several fronts of which the most pressing was the high level of corruption in government and state enterprises which was now on such a scale it was being referring to as "state capture".
He described Zuma as "… a president who at best is missing in action and, at worst, he is a leader at the very root of this crisis – one who has abrogated his constitutional duties" as well as "a president who literally laughs off any suggestion that government be held to a higher standard – and, is, in fact, the sponsor-in-chief of corruption".
He added that: "Our finance minister – a rare example of probity and good governance – a distinguished public servant who is leading the efforts to maintain our investment grade credit rating is hectored and intimidated at every turn. Ratings agencies are sneered at. Businesses are hobbled at any opportunity. The needs of ordinary people are ignored".
Pityana was also critical about the policy of silence on key national issues such as corruption which had been followed to date by much of the business community.
He commented: "We are at a watershed moment for our young democracy. Many in our leadership – most notably our President – have an agenda that appears – to me at least – to be entirely at odds with addressing the increasingly desperate needs of our country.
"It cannot be business as usual. We need to wake up to what our young students sense already which is that the business community has a vital role to play in saving South Africa.
"Business is present in every home in our country in one way or another yet it is a missing voice in meaningful discourse on the most important issue of the day".