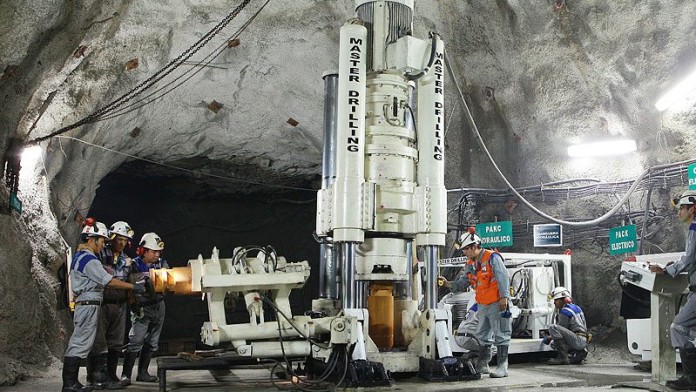 MASTER Drilling, a mining services company that specialises in raise bore drilling, has approved the payment of a maiden dividend of 30 South African cents per share following a strong showing in its 2016 financial year.
Commenting on the decision to make a payout, the company said four years of strong performances since listing in Johannesburg, and ongoing cash generation, meant it had the confidence to both invest in capital projects and return cash to shareholders. Compound annual growth in taxed profit was 16.1% in dollar terms since listing.
CEO, Danie Pretorius, owns about 53% of Master Drilling (and hasn't been a seller in the past) leaving the company with a relatively small free-float of about 12.5%. Major South African institutions are also shareholders in the company.
For the financial year Master Drilling increased share earnings 22.1% to 210 cents/share. After a difficult first half, improved operating conditions stabilised the business. It now had a "stable" order book of some $196.6m and a pipeline of drilling contracts totalling $320.8m.
Share earnings in dollars increased by 5.9% to 14.3 cents.
Master Drilling reports its figures in US dollars as well as rands because it operates in South and North American as well as in Africa, and its home base in South Africa. It said it would continue to support its South African clients, but added the rider that conditions would be "subdued".
Net cash generation was lower at $26.5m due to significant investments in working capital. Debtor days increased as a result of longer payment cycles, the company said. Debt decreased marginally to $31m from $33.4m.
Despite a strong year, there were inevitably some problems.
Master Drilling replaced its management teams in Peru and Chile in order to improve performance and following "operational issues". The restructuring of its business in Brazil was also on time and in budget.
The picture in North American and Europe was more settled where there were opportunities to realise Master Drilling's strategic goal of diversifying its operating base.
The company said it was also committed to expanding in 'appropriate' African countries, but existing operations were negatively affected by "continuous pricing pressures".
Projects in Sierra Leone and Tanzania, as well as an additional project in the Democratic Republic of Congo, had a negative impact on performance due to high levels of upfront costs, it said. This included logistics required to support the clients in the initial phase of their project work.
During the first half of its 2015 financial year, Master Drilling invested in the Scandanavian business of Bergteamet Raiseboring Europe AB, which is based in Boliden, Sweden. The South African firm said it had registered a return of nearly 13% on its investment during the 2016 financial year.
Commenting on prospects for the current financial year, Pretorius said the company expected "weaker utilisation rates" of its equipment in the first half, but that this would improve to about 70% utilisation in the second half.
The improvement in the commodity market had helped ease business conditions compared to a year ago, but Master Drilling's diversification strategy meant that it would focus on minimising its share of initial roll out costs with certain clients, especially in Africa.
A focus on working capital management had also been identified.
"Diversification across regions, commodities, currencies and industries remains a key part of our long-term strategy," said Pretorius. "We are experiencing strong demand with increased enquiries across the various regions and commodities and expect this to continue," he added.
Pretorius told Miningmx last year that the company had targeted a market capitalisation of about R4.5bn by around 2018/19 trading at price: earnings ratio of 8 or 10. It is currently capitalised on the JSE at about R2.7bn, an increase of R700m compared to September 2016. On a 12-month basis, shares in Master Drilling are 63% higher.