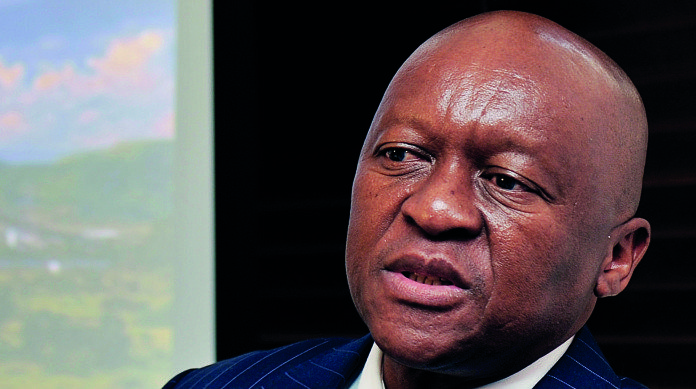 OUTSPOKEN CEO of Royal Bafokeng Platinum (RBPlat), Steve Phiri, today welcomed comments by the African National Congress (ANC) that the mining sector ought not to be dealt with punitively.
These comments, attributed by BusinessLive to ANC secretary-general, Gwede Mantashe, following a ruling party lekgotla on July 31, were described as "encouraging" by Phiri who also weighed into the Mining Charter debate.
Commenting during a presentation of RBPlat's half-year operating and financial figures, Phiri described the new version of the Mining Charter published by mines minister, Mosebenzi Zwane on June 15, as "shabbily" drafted. "The contents of the Mining Charter are scary, shabbily drafted and have no modicum or expertise in draughtsmanship. The ability for compliance defies any stretch of the imagination," he said.
"I hope that wisdom will prevail. We are encouarged by the statements from the ANC yesterday which raised serious concerns about the document," he said. "We hope that we will see something different in days, weeks and months to come."
Phiri is no stranger to controversy having long picked out government frailties, He once commented during a conference in 2014 that corruption was South Africa's national sport.
Citing Mantashe, BusinessLive said the Mining Charter would be revisited by the ANC. "We must deal with the industry … not in a way that appears to be punitive," he is reported to have said. "Mining is not a short-term sector … it is a long-term sector … we must create an environment for that industry to perform," said Mantashe, who added that his comments were not intended to undermine Zwane.
"No, it reinforces him, that when a deployee takes charge of a particular portfolio, it's not a personal domain, it's an ANC issue," he said. "If you commit mistakes, those mistakes come back here [the ANC] running so we are not undermining minister Zwane, we helping him appreciate the fact that we should do things in a particular way that does not affect the economy negatively, that is our responsibility," said Mantashe.
The National Union of Mineworkers has asked for President Jacob Zuma to fire Zwane who is also under suspicion for greasing the wheels of a transaction in which the Gupta family company, Tegeta Exploration, bought Optimum Coal out of business rescue last year.
The Mining Charter redraft contained a number of clauses that had not been previously seen by the Chamber of Mines during its brief opportunity to negotiate it over the last few years. These included a free carry for empowerment partners on new prospecting and mining licences, and mandatory dividend payouts to empowerment partners.
The Chamber of Mines subsequently applied for an urgent interdict of the Mining Charter whilst it was set aside and taken on review. Zwane has since threatened to place a moratorium on new prospecting and exploration licences not personally approved by him which as the effect of blocking transactions in the mining sector where there is a change in ownership. The Chamber has challenged that too with an application to interdict.