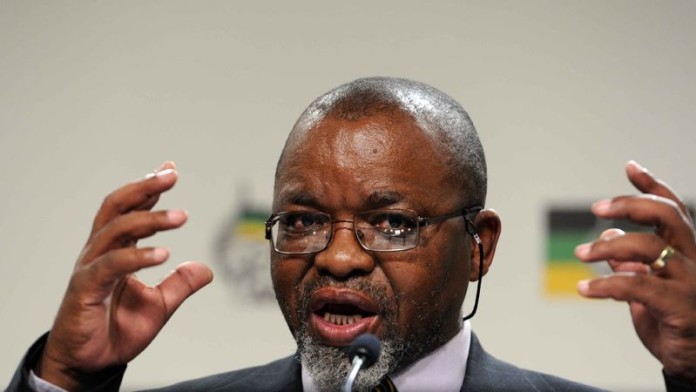 SOUTH African mines minister, Gwede Mantashe, wanted to explore the possibility that the mining sector could help establish a mining graft division with the South African Police Services (SAPS) in order to counter illegal mining activities.
Speaking after the Chamber of Mines annual general meeting today, Mantashe said he consulted with police minister, Bheki Cele, on the matter. "He said that his department did not have resources," said Mantashe. "But I said the industry can partner with you."
"The problem with illegal mining is that when arrest illegal miners you find senior managers there. It is a big leakage on production of industry," he said. The Minerals Council estimates that in the diamonds and precious metals sector, the value of illicit and illegal mining activities is in excess of R7bn.
The idea comes on the same day that the Chamber renamed itself the Minerals Council of South Africa, a rebrand described by the council's newly re-elected president, Mxolisi Mgojo, as an effort to "… reboot the sector" in order it become the foremost contributor to the South African economy.
Mgojo acknowledged the significant contribution Mantashe had made towards the sector in less than 90 days as mines minister, a role he took from Mosebenzi Zwane who had been appointed in 2016 under the former president Jacob Zuma's administration. Referring to that period, Mgojo said the Department of Mineral Resources (DMR) had become a 'persona non grata' amid a breakdown in relations.
Key among the resuscitation in relationship between the government and the mining sector has been a commitment to renegotiate the Mining Charter. The redraft published by Zwane in June last year drew court challenges from the Minerals Council SA.
Commenting on the condition of negotiations, Mantashe said there were "two or three" issues that had yet to be hammered out, but he remained confident the end-May deadline he set was possible. "It is still behind closed doors," said Mgojo of charter discussions. "I believe we can do it," said Mantashe on meeting the end-May deadline.
Roger Baxter, CEO of the Minerals Council said that discussions had "… been frank". "Our key role in discussions in looking at improving investor trust. Our policy rating is currently in the worst quartile of competitiveness; it needs to be in the best," he said.