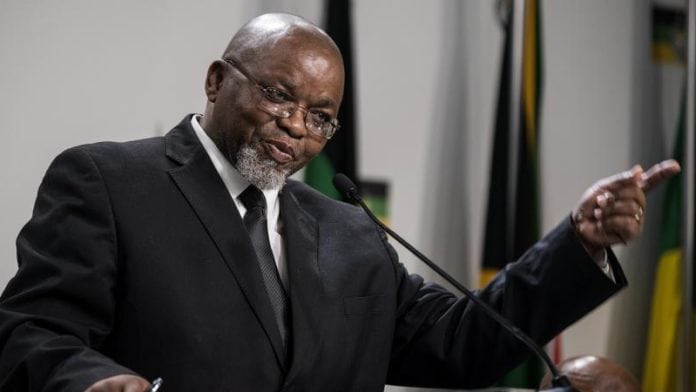 SOUTH Africa's Department of Mineral Resources (DMR) dropped a previously drafted 1% trickle-down dividend for new mining right applications in its Cabinet-approved Mining Charter, but it included a 10% carried interest which is to be divided between communities and employees.
The other highlight of the document – which will be gazetted today – was that existing mining right holders were deemed to be compliant if ownership by historically disadvantaged South Africans (HDSAs) was at 26%, whilst new mining right applications would have to meet a 30% ownership target.
Pending applications for mining rights would require a minimum 26% ownership requirement on the proviso that conversion to 30% was effected after five years. Gwede Mantashe, mines minister, called the document final.
"This Charter represents a consensus among stakeholders we have been involved with in this process," he said at a press gathering in Pretoria. "It's something we can all live with it; nobody is completely happy," he added. The Mining Charter would aim at sustainable growth in the mining sector, job creation, and the removal of inequality.
"You can never say this is the final, final charter," said Ntokozo Mgcwabe, deputy director-general for mineral policy and promotion at the DMR, but the minister has pronounced on this: this is the final Mining Charter for the foreseeable future," she said.
Five per cent of new mining rights had to be carried interest to employees and another 5% for 'host' communities, the latter comprising the equivalent of the issue share capital of the mining right holder.
Drilling down further into the composition of the ownership element of the charter, about a fifth had to be identified black entrepreneurs, 5% of which were were preferably women. Some 20% of ownership shares to black economic empowerment are not to be diluted below a 51% ownership cementing the notion of carried interest as mining companies will have to pay for their investment in the event of a capital call such as a mine expansion.
Junior miners – defined as entities with one or more mining rights not having an accumulated turnover of R150m – would be accounted for in the Mining Charter under targets set down in the Precious Metals Act of 2005 and the Diamond Act of 1986.
Mantashe said that in order to focus on direct community development, the Mining Charter had reduced the offsets available for beneficiation from 11% to 5%, although existing mining right holders who qualified for the previous offset would be allowed to retain it for the duration of the right.
Mgcwabe said the process now was for guidelines attached to the Charter which would "outline the modalities" would be published in association with further engagement with stakeholders. Claims that communities were left disaffected by the Mining Charter consultation process was dismissed by Mantashe. "It becomes a problem when lawyers become communities and they get paid a fee for it," he said.
"Anyone with a different view has a right to that: they have a right to say 'no', but they must accept the rights of others to say 'yes.' If it comes to a push we will test their views before taking the next step," he said.
Asked by Miningmx about the fitness of the DMR to implement fairly, with competence and without corruption the principles of the Mining Charter, Mantashe responded: "We are going to implement this Charter and people will feel it. We are dealing with corruption; and we have got the capacity [in the department]".