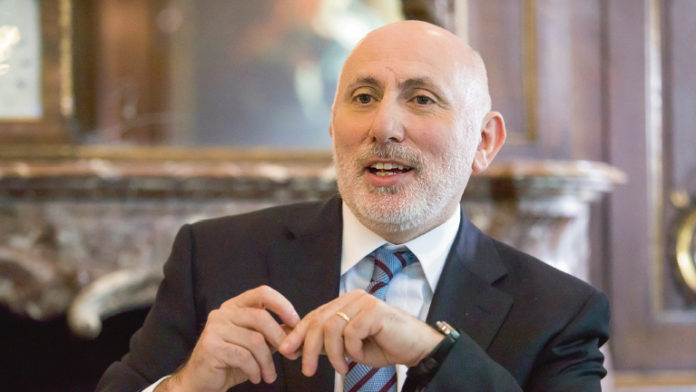 KENMARE Resources would be able to fund $70m in development capital in its 2019 financial year using internally generated cash flow, but the company was giving mind to refinancing existing debt facilities, said CEO Michael Carvill.
Speaking in an interview on the day the company announced a strong performance for its 2018 financial year, Carvill said that whilst there were "no firm plans" for the refinancing, the feeling was that current facilities were "not fit for purpose".
"The orientation of existing debt is towards a development company so it is not fit for purpose for the ongoing structure," said Carvill. The aim would be to lock-in longer term debt. "It's part of normal financial management," he said.
Kenmare, which produces the industrial minerals ilmenite and zircon from its Moma mine in northern Mozambique, reported a 162% increase in taxed profit for the year of some $50.9m. It was a performance based on higher production and higher average realised prices for the minerals which are used to impart whiteness and opacity in the manufacture of paints, plastics, paper, and in the case or zircon, to ceramics.
From a cash perspective, the company has net cash of $13.5m as of December 31 which compares to net debt of $34.1m at the end of the 2017 financial year. Total cash for the business stood at $97m, hence the firm's ability to absorb its planned development capital spend.
The expenditure is primarily for the completion of the $45m WCP development due before the year-end. The company in 2018 completed the upgrade of WCP B and has set down plans to move the WCP B equipment to Pilivili, a section of Kenmare's Moma deposit that will be the final piece in the puzzle for production of 1.2 million tonnes a year of ilmenite.
Production of ilmenite in the period under review was 958,200 tonnes (2017: 998,200 tonnes) whilst some 48,400 tonnes of zircon was produced (48,600 tonnes).
Carvill said the market for both minerals was holding up well despite a recent softening in the zircon price, which he said boded well for long term price stability. "A softening in the price is absolutely fine. It's not good for it to steam ahead which is what we saw last year," he said.
The improvement in Kenmare's financial position, and plans to lift production to a level it thinks can be maintained for 20 years, is behind plans to resume dividend payments this year. A policy of 20% of earnings was announced last year.
In notes to its financial results, Kenmare mentioned the prospect of enhancing the payout, but Carvill was non-committal on putting numbers to it. "It's logical that with no capital expenditure from 2021 there will be more dividends paid out."
Other good news for Kenmare was a Court of Appeal decision to reduce a settlement with former board director, Donal Kinsella, to €250,000 from a previous award – which was for defamation which the company acknowledged – of €10m. "I'm delighted," said Carvill in respect of the Supreme Court's award which he said brought the curtain down on "a long-running saga".