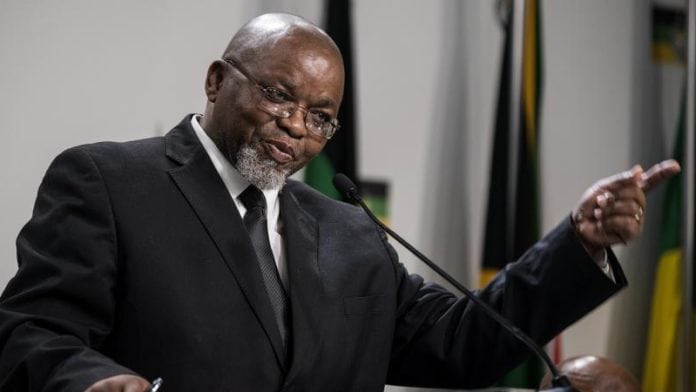 SOUTH Africa's mines minister, Gwede Mantashe, said a decision by the Minerals Council South Africa to seek a judicial review on the Mining Charter was a pretext for cutting jobs.
Speaking on the side lines of a pre-election meeting he was attending in Vereeniging, south of Johannesburg, Mantashe said the Minerals Council was only interested in creating uncertainty in the mining sector because it was in this context that it could continue to cut jobs.
"The council came to see me two weeks ago and said that it wanted everything to go its way," he said of a meeting in Cape Town regarding the Mining Charter. Mantashe said he told the council that the charter was a document involving the input of "many stakeholders" and to "have everything you like is selfish".
He said the council was guilty of bullying.
The Minerals Council announced on March 27 that although it hadn't exhausted negotiations with the Department of Mineral Resources (DMR) on additional changes to the Mining Charter, which was updated by government gazette in December, it would ask for a judicial review on the issue of 'continuing consequences'.
This is the term is uses to describe the issue of whether mining companies are always empowered once they have met the original Mining Charter criteria of 26% (and other targets) as set down in 2004. The most recent wording of the Mining Charter makes it explicit that in order to renew a mining licence, or transfer it, the mining companies must re-empower themselves in line with the 2004 targets.
The council argues this is contrary to a High Court ruling in 2017 which stated that mining firms, having already met empowerment criteria, were not required to do it all again. The mining sector has been negotiating this point with the DMR since last year whilst simultaneously acknowledging that the Mining Charter, as per Mantashe's 2018 iteration was a vast improvement on a previous version.
Mantashe said his charter had brought about stability: "I can assure you that the charter has given us stability.
"At a mining indaba in Canada (Prospectors & Developers Association of Canada conference) every delegate said they saw South Africa in a positive light. But the council is not used to stability.
"It is creating uncertainty themselves because it wants to destabilise the industry so it can have excuses to actually cut back on jobs. But we will engage with it," he said. Mantashe also acknowledged that if the judicial review went the way of the council, the DMR would have no option but to comply.
"It wants to kick away investments because it wants a new uncertainty. If it is in court, it and it wins in court, we will comply," he said.