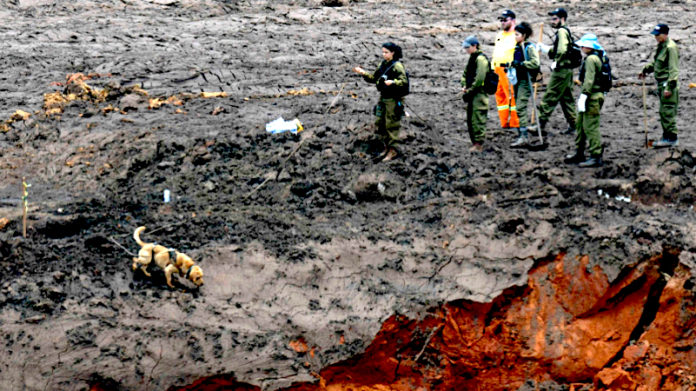 MINING companies globally published details of their tailings depositions on June 7 in compliance with demands issued by the Church of England Pensions Board and the Swedish Council on Ethics.
Consciousness about the imprint of mining in modern society is on the increase. The tailings reports follow the Fundao disaster in 2015 in which 19 people were killed after a tailings dam burst. The operators, Vale and BHP Billiton through the Samarco joint venture, are facing class action suits involving 30,000 participants, including 300 institutions.
The rupture of Vale's Brumadinho tailings facility some three years later in January 2019 which left 186 confirmed dead and 122 missing has raised popular consciousness further and in such a way that mining will not be the same. The Brazilian Environmental Agency said the mudflow destroyed 270 hectares of which more than half was native vegetation or protected forest, equal to 300 football pitches.
Following the tailings dams disasters investors controlling more than $10 trillion in assets from 96 investment groups globally asked the top mining companies to disclose how they manage their tailings facilities.
"My sense is that Brumadinho is going to be a key moment for the sector," said Adam Matthews, director of ethics and engagement at the Church of England Pensions Board in an interview with the Financial Times. "We simply should not be having disasters such as this," he told the newspaper earlier this year.
Awareness about mining's footprint isn't, of course, restricted to tailings. "In the last five years, there have been a rising number of disruptive events on mines relating to environmental or social impact," said Roger Dixon, corporate consultant, SRK Consulting. "These range from catastrophic tailings dam failures to violent community protests – in some cases leading even to the closure or cancellation of projects. The financial losses have gone hand-in-hand with considerable reputational damage," he said.
Growing indexation heightens the financial risk of failing to run mines. No matter how profitable a mining company may be, regardless of how regularly it hits any of its output or cost guidances, it won't attract funds that fear a risk of ESG failure.
So far, the industry isn't winning. PwC, a consultancy, said in its 2019 Mine Survey published in June that investors tended to ignore the improved financial performance of the world's top 40 mining companies, including record dividend payments totalling $43bn. Why? According to PwC, the investment market just doesn't buy into 'Brand Mining'.
"To restore faith in 'brand mining', leading miners need to prove they are keeping up with the pace of change. As an industry, this means transforming their reputation as efficient 'converters of dirt' to prominent builders of both economic and societal capital," PwC said.