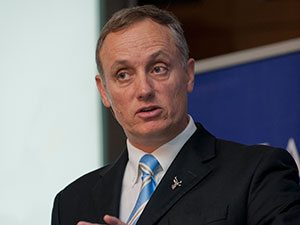 [miningmx.com] – IMPALA Platinum (Implats) CEO, Terence Goodlace, described the firm's recent R4bn capital raising programme as "extremely awkward" and said that the discussion over productivity was "becoming urgent".
Speaking in a question and answer session at the Joburg Indaba, in which he was joined on stage by Joseph Mathunjwa, president of the Association of Mineworkers & Construction Union (AMCU), Goodlace said that combining the firm's capital needs with its social aims was a difficulty.
"Getting cash to keep going is extremely difficult … it has become extremely awkward. Shareholders want their return," said Goodlace.
"When we start raising issues of housing, having families in and about the property, and changing the wage gap I get the sense peoples' eyes glaze over," he said of the investor response to Implats' social and labour goals.
On October 7, Implats concluded a R4bn book-build programme in which it issued
approximately 102.6 million shares for R39 per share, equal to a discount of 12.7% to the 30-day volume weighted average closing price of Implats on October 6.
Implats said on September 3 that it intended to use the proceeds from a book-build to complete the R3.9bn 16 and 20 shafts projects in the next three years. The shafts will take Impala Lease production to between 815,000 to 830,000 ounces a year by 2020.
However, Goodlace said that improving productivity was a pressing need for the company and the sector in general.
"We're in a situation now that if we don't dig ourselves out of productivity hole we have created, there is no future," said Goodlace. "It is that urgent."
"It can't only be a conversation in wage negotiations. We have to rectify productivity. How do we run our organisation? What are the systems that we have and the skills? There's still a lot of work required from that perspective," he said.