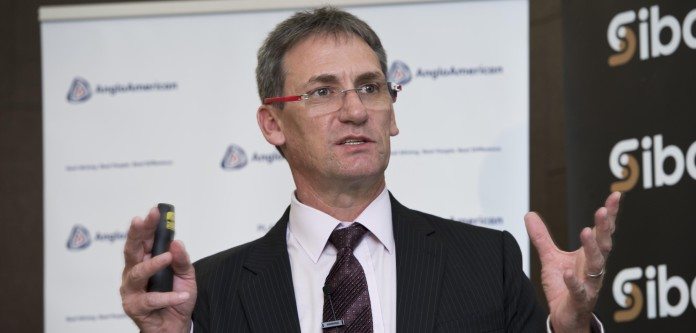 ANGLO American Platinum (Amplats) CEO, Chris Griffith, doesn't expect the lengthy disruption of 2014 when his company sits down to wage negotiations with unions later this year because the painful effects of the strike are still being felt.
In addition, economic conditions for the sector have continued to deteriorate, with job losses, reductions in production affecting employees numbers and suppliers. There have also been continued discussions with the unions since the 2014 strikes about the current economic climate and its impact on the platinum businesses.
Nonetheless, the sticking points in wage negotiations are likely to be similar. One, for instance, will be persuading unions that money is too tight to mention. Unions may well disbelieve the company; at least publicly.
The facts tend to speak for themselves, however.
An astonishing statistic produced by Amplats, made available to Miningmx from publicly available information, shows that shareholders in Amplats, Impala Platinum and Lonmin have received almost nothing in dividends in seven years.
However, they have ploughed in a combined R35bn in rights issues and convertible bonds since 2010 at an average discount of 48% in order to keep the companies solvent. The share capital of these companies have fallen 70% during that time, equal to some R250bn.
Roughly half of the rights issues were for Lonmin which attracted most of the discounts: R3.5bn at a 44% discount in 2009; R6.5bn at a 45% discount in 2012; and the latest rights issue in which R5.5bn was raised for a mind-numbing 96% discount.
Nonetheless, the perception that foreign shareholders treat South African platinum miners as mere plunder is clearly off the mark. Whether this argument will persuade unions, though, is questionable.
Unions will press, as they should, for higher wages arguing that there's been a turn in the fortunes of the market: the platinum price has improved this year and the rand weakness against the dollar has put fire in the belly of the rand basket. Griffith tends to disagree.
"Not much has changed and we're expecting another hard year this year," he said.
The dollar basket price of platinum group metals (PGMs), including rhodium and nickel, fell to $1,907 per platinum ounce in 2015 from $2,429/oz in 2014. Compare this to the average $1,535/oz year-to-date price of the basket.
In rand terms, there has been an improvement in the average price, but it is slight at present. At R24,576 per platinum ounce, Amplats and its counterparts collect only R100 more per platinum oz than the R24,125/oz average of 2015 which is, itself, about R2,000 less per ounce that in 2014 (R26,309/oz).
Set against top line revenues, however, is how South Africa's platinum sector is able to cope with costs. The 8%-odd increase in the electricity tariff this year is twice inflation. In monetary terms, its $400m on the bottom line which more than wipes out the recent $200m saving Amplats made on 400 job separations.
The sector is eminently more efficient though.
"We are making money at 30% to 50% lower prices than before restructuring began in 2013," said Griffith. "We are producing the same ounces now as in 2011 but with 15,000 less people. We shut down 300,000 oz to 400,000 oz of loss making production but we have made most of that up in productivity improvements elsewhere," he said.
Although not referring directly to the PGM market, Goldman Sachs observed in a recent note that the rally in metal prices and equities was somewhat larger than the seasonable improvement largely driven by restocking in China.
This year's rally was 'outsized' and was not sustainable, the bank said. It iwas bearish, in fact, on the longevity of the mining rally.
It cites the bounce in leveraged stocks such as Glencore (55%) and Anglo American (78%) as "not surprising" considering the record lows at which both were trading previously. And the flight into commodities was driven by an unexpected bout of weakness in the dollar, and strong China loan data suggesting the economy was building in confidence.