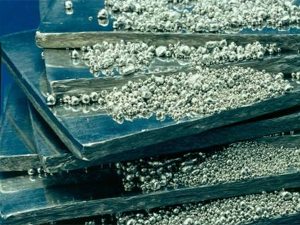 [miningmx.com] – IMPALA Platinum (Implats) said the dollar platinum price would remain relatively impervious to strike activity at the company's Rustenburg operations – and those at Lonmin and Anglo American Platinum (Amplats) – unless it continued for another month.
"Then we will have to reassess (where the price will be),' said Derek Engelbrecht, Implats' outgoing marketing director at the group's interim results announcement today in which headline earnings were 10% higher, but the company passed the dividend amid continued cash burn.
The platinum price is about $30/oz lower than its pricing at the time the Association of Mineworkers & Construction Union (AMCU) embarked on a wage-related strike at Implats, Lonmin and Amplats. The strike, now into its fifth week, has so far cost Implats about R1.7bn in revenue, and some R700m in worker wages.
The market is still conscious of above ground stocks despite some 900,000 ounces being diverted into the highly successful Absa Capital platinum exchange traded product which was launched last year. There's up to eight weeks of inventories held by the platinum companies.
"There is a pipeline that was full prior to strike which would last six to eight weeks,' said Engelbrecht of Implats' inventories. "We've been in touch with all our customers and have guaranteed all contractural deliveries to end of March,' he said.
All local deliveries have been guaranteed for a further month, into April, "… in support of beneficiation in country, and keep people here employed there,' he said. By May, however, supplies will become a sticky issue although by then it's expected the strike may be over.
Asked if the strike impasse was akin to the momentum coal miners strike in Britain during the Eighties, a period in which the late former UK prime minister Margaret Thatcher broke the back of the unions led by Arthur Scargill, Engelbrecht commented that there was an element of that.
"For us, we're damned if we do and damned if we don't [acede to AMCU demands],' he said. "Ultimately, we don't want to break the back of AMCU, but we don't want Joseph Mathunjwa to think he has won either,' he said. The fear, however, is that diminishing AMCU will create more uncertainty in the labour market with the rise of worker committees or other unions.
Engelbrecht believed there was a fundamental deficit in the platinum market which would increase to 610,000 ounces in 2013, a 50% increase on the 400,000 oz deficit in 2013. In 2014, the deficit was expected to fall a third to 425,000 oz, according to Implats figures.
Earlier in the year, a combination of mixed fundamental news was sufficient to see a sell-off in the futures markets with 1.8 million oz of platinum liquidated, and just over one million oz of palladium were liquidated from their respective peak levels.
However, there has been a global increase in the manufacture of car units which generated autocatalysis demand, while the lack of investment in South African platinum growth would also eat into inventories.
The five million oz production record from South Africa, recorded in 2007, was unlikely to be achieved for five years at least. Yet, Engelbrecht said he was concerned about the reputational damage to South Africa regarding constant questions about the security of metal supply.