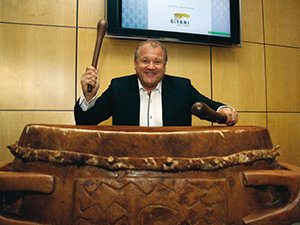 [miningmx.com] – GIYANI Gold's announcement on February 11 that its acquisition strategy remained intact was perhaps only coincidentally a day after AngloGold Ashanti announced it would sell its Navachab mine in Namibia to private equity firm QKR, for about $110m.
The speculation was that Giyani Gold had thrown its hat into the ring for Navachab, although investor relations Luke Vigeant declined to say either way. "We don't normally comment on that kind of thing," he told Miningmx.
To be fair, the only voiced opinion connecting Giyani and Navachab was that of Giyani Gold president Duane Parnham who uttered the somewhat non-committal view last year that Navachab was an "interesting" asset.
If there was a bid, however, Giyani Gold must be feeling a bit piqued. Perhaps it offered more for the asset than Lloyd Pengilly's QKR, but AngloGold just preferred private equity to money raised through the publicly traded markets, or debt capital.
Said Parnham: "Our listings in South Africa, Namibia, and Toronto provide a strategic and competitive advantage for Giyani Gold that gives us the flexibility to trade, raise capital, and seek acquisitions on a broad scale throughout Africa.
"I have led companies through these types of down-markets in the past, and my team and I have a history of maintaining and generating value in both good and bad markets."
That does sound a tad defensive, and it must be hard to be a junior in the current market – one that Parnham said would continue for 2014 – which is why private equity is emerging as a real funding alternative for new acquisitions.
(Not all agree. A former gold mining executive attending the Mining Indaba in Cape Town last week said on the sidelines of the conference that the private equity interest was a whole lot of froth).
Giyani Gold, far from being the greenfields exploration play it first seemed when listing in Johannesburg and Namibia, is keen on acquisitions nonetheless.
Vigeant said that just because the firm doesn't have anything imminent to announce doesn't mean there aren't discussions … or words to that effect. There is a shopping list at the current time, he says.
One short-term worry for Giyani Gold, however, is the fact the state-owned company Corridor Mining Resources (CMR) has so far not stumped up its R2.5m share of 2013 operating expenses it shares with Giyani Gold on exploration.
Giyani Gold said that"… an additional update surrounding the 2014 exploration program will be made at such time that Giyani Gold and CMR have resolved all payment and budgetary items".