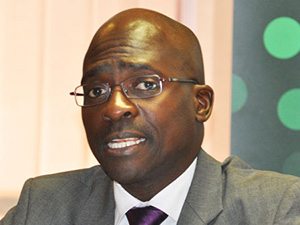 [miningmx.com] – BUILDING a third coal-fired power plant was a priority for South Africa and the country's government was "working around the clock" to finalise funding for its development, said Malusi Gigaba, minister of public enterprises.
Responding to questions at Eskom's first quarter 'state of the power system', Gigaba said building Coal 3 [following the R220bn Medupi and Kusile power station builds] was crucial to avoid a repeat of the events during January 2008 when South Africa's mining sector shutdown amid load-shedding.
Medupi and Kusile will add about 8,000MW to South Africa's power grid with Eskom confident the first unit of Medupi would be commissioned before the year-end. Kusile would start to be commissioned a year after that.
However, Gigaba said the planning for Coal 3 was a matter for the energy ministry as well as the National Treasury. "There is a concern about how quickly we make this decision [regarding approving Coal 3]," said Gigaba.
"We need to begin anticipating the challenges we face in 2018 and 2019 when the current build programme reaches conclusion and Eskom's ageing fleet needs to be closed," said Gigaba.
"In order to avoid the situation we found ourselves in in 2008, we are working around the clock to arrive at decisions quickly, and to see that the construction can commence," he said.
Brian Dames, the outgoing CEO of Eskom, confirmed that the power utility would begin decommissioning some of its fleet from 2020. He added that Eskom had done only "limited work" on both Coal 3 and in providing for nuclear energy, a prospective part of South Africa's energy mix to which President Jacob Zuma recommitted the country in his State of the Nation address on February 13.
"We haven't done much,' said Dames regarding Coal 3. "We don't have the money to build another coal plant. On nuclear, we have done limited amounts of work.
"But the country does need a balance energy solution. We have a large power system and our power stations are pretty much of the same age, and will end at the same time,' he said.
He added that South Africa needed a large base load of power – total estimated capacity is 43,000MW – and had to set down plans for energy sources that were low on carbon emissions.
Gigaba said the DPE [Department of Public Enterprises to which Eskom reports], the DoE [Department of Energy] and the National Treasury were assessing funding mechanisms.
"We are looking at the best way to provide the funding requirement at Eskom. In the previous briefing, we indicated the volume of shortfall that Eskom faced, so we are looking at options that would address the challenges we are facing,' said Gigaba.
In terms of the third Multi-Year Price Determination, Eskom was granted an 8% per year increase in the electricity tariff instead of the 16% increase for which it applied. The result was that Eskom has no funds for Coal 3, or for funding of independent power producers (IPPs) as or end-December.
Interestingly, Gigaba suggested a re-examination of the tariff could not be excluded provided Eskom was "prudent' in trimming its costs, thought to be in the region of R75bn in order to accommodate the lower tariff granted.
"The situation we are facing requires that we look at all the options so we can meet [electricity] demand. On a continuous basis, we will update you on decisions that are being taken in terms of our mandate to keep the lights on and provide security of supply as well as the tariff,' said Gigaba.