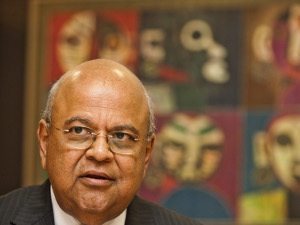 [miningmx.com] – SOUTH Africa's largest industrial companies, including ArcelorMittal SA (AMSA), Sasol, and state-owned electricity utility, Eskom, breathed a collective sign of relief after finance minister Pravin Gordhan delayed plans to implement a carbon tax by a year.
Commenting in his 2014 national budget speech in Parliament today, Gordhan said that while a package of measures was needed to address climate change and reduce emissions, further consultation on the structure of the tax was required.
"To allow for further consultation, implementation of the carbon tax is postponed by a year to 2016,' he said. Steps to limit climate change would include the proposed carbon tax, environmental regulations, and renewable energy projects.
In last year's Carbon Tax Policy Paper, the National Treasury said that the proposed carbon tax would be levied at R120 per ton of CO2 effective from January 1, 2015. The tax would be increased 10% a year, it said.
AMSA said last year that the carbon tax in its current form would cost it R600m a year, an amount it would struggle to absorb was there were limited opportunities to reduce carbon emissions in the steel manufacturing process.
Citing the 2014 Budget Review, Moneyweb said the National Treasury had received more than 100 written comments on the carbon tax in which respondents welcomed the need for a carbon pricing mechanism, but adding that changes were required to ameliorate the negative economic consequences.
MINING TAX REVIEW, AMD
Gordhan said that having made some initial findings in terms of the Davis tax review, work would be undertaken in 2014 on the impact of the tax system "on economic growth and job creation, and aspects of VAT, mining taxes and estate duties".
Gordhan also said the government would focus on the development of shale gas in an effort to provide an energy alternative to the country.
He added that consultation would begin this year on establishing an "appropriate funding mechanism" to pay for the management of acid mine drainage (AMD).
Said Gordan: "Regulatory and other measures have been put in place to address the
environmental consequences of acid mine drainage.
"To complement current efforts and ensure that the mining sector makes its fair contribution towards continuing acid mine drainage expenses, consultations will be initiated on an appropriate funding mechanism".
Mike Teke, president of the Chamber of Mines of SA, said its members looked forward to "… engaging the Davis Tax Committee and sharing its views on the mining taxation system and the overall contribution of mining to the economy.
"In terms of the government's commitment to a consultation process on mining sector contributions to managing the issue of acid mine drainage, the chamber looks forward to engaging in this process," he said.