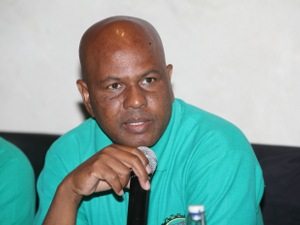 [miningmx.com] – WAGE talks ended in failure again today with South Africa's platinum industry sliding deeper into crisis despite the first substantial change in position by the Association of Mineworkers & Construction Union (AMCU).
"The fact is we're in deadlock now," said Johan Theron, spokesperson for Impala Platinum (Implats) which has been negotiating alongside Anglo American Platinum (Amplats) and Lonmin to have a 7.5% to 9% wage offer accepted by AMCU.
The union called a strike six weeks ago after failing to secure a R12,500 per month minimum wage for entry-level miners – a demand it only adjusted this week suggesting that the target be reached in four years.
The platinum producers, however, said that even over that time, the increase was equal to a 30% to 40% lift in wages which they could not afford. "Both parties have to reflect on where it is and what is do-able. The doors remain open to come back, but it doesn't help us to come back with the same positions." said Theron.
The platinum producers announced earlier today that they had adjourned a facilitated negotiation at the Commission for Conciliation, Mediation and Arbitration (CCMA) describing the relative positions of the union and companies as "far apart". No timetable had been set for renewed wage talks, said Theron.
Asked whether the platinum producers had any more space to manoeuvre on their offer, Theron said: "There is always room to play, maybe half a percent here or there, or moving from one [job] level to another".
He added there had been "lots of conversations" about productivity-linked wage agreements, but that the sides had to agree on parameters that would "… take us forward. Is it about cash in pocket, or reaching this crusade of R12,500 a month?," said Theron.
In their joint statement, CEOs Chris Griffith (Amplats), Terence Goodlace (Implats) and Ben Magara (Lonmin) said: "We remain far apart. The revised demand by AMCU of an average basic wage increase of between 25% to 35% year-on-year over a four-year period remains unaffordable. We urge AMCU to take this opportunity to reflect on, and inform its constituents of, our current offer.
"Our proposed increase would take the current monthly basic wage of between R5,000 and R5,700 to between R6,300 and R7,200 by 2015 excluding benefits and bonuses. This proposed increase should also be seen against the reality of the mining industry already being the highest paying industry of similar labour-intensive industries.
"Importantly, the proposed increases will take the minimum guaranteed pay of entry-level underground employees to between R9,390 and R10,250 in the first year to between R10,900 and R11,900 in the third year. Most other labour intensive parts of the economy pay a basic minimum wage only.
"We remain committed to negotiating within our settlement zone and in good faith. It is however imperative that the economic realities are taken into account during this process to ensure the sustainability of the industry.'