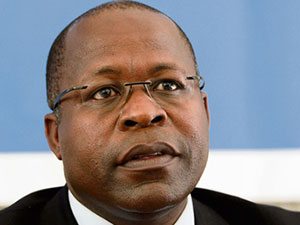 PLATINUM firm Lonmin's share price rose almost 15% in morning trade after it convinced investors it had kept its promise to restructure, cut costs, and focus on productive shafts.
However, the company's CEO, Ben Magara, warned labour relations may become tested in wage negotiations from about June following a five-and-a-half month strike in 2013, led largely by the Association of Mineworkers & Construction Union (AMCU). He was optimistic a way forward could be found.
Presenting interim results to end-March, Magara said Lonmin had made significant progress on its business plan. It had cut costs, generated more cash, increased liquidity and improved profitability. He said Lonmin had not shied away from taking tough decisions, which included reducing the headcount by almost 5,500 people.
Its results, boosted by its recent $373m rights issue, reflected a turnaround to a net cash position of $114m from $185m net debt at end-September.
Total tonnes mined of 5.1 million were 10.6% down due to the planned decrease in production from the high cost Generation 1 shafts.
Production of 3.9 million tonnes (or 76.6% of production) at the Generation 2 shafts – K3, Rowland, Saffy and 4B/1B – was broadly flat while production from the Generation 1 shafts – Hossy, Newman, W1, E1, E2, E3 and Pandora, which are being wound down – was 27.7% lower at 1.2 million tonnes.
Total refined platinum production of 348,885 ounces (oz) was 33.0% higher than the previous year while total platinum group metals (PGMs) produced of 667,399 oz were 33.1% up. Unit costs at R10,668 per PGM ounce were contained to an increase of 1.4% despite 8.2% higher labour costs.
Platinum sales of 361,882 oz were up 36.1% while PGM sales were up 35.8% to 699,269 oz.
The US dollar basket price of $736/oz was down 25.4% while the rand basket price at R10,962/oz was only 2.7% lower due to the weak rand.
Reduced costs were reflected in EBITDA of $36m, a turnaround from a $6m loss. But including depreciation, amortisation and some one-off costs, Lonmin still made a loss for the period of 1.8c a share, a significant improvement on the prior-year loss of 164.6c.
Capital expenditure was contained to $27m. Liquidity was $474m – comprising gross cash of $264m and undrawn bank facilities of $210m. Net cash was $114m.
A significant reorganisation and s189 process resulted in 5,433 people being retrenched or leaving, and a further 1,428 reskilled and redeployed.
Cost savings of R469m were 67% of the full year target of R700m.
Productivity at Generation 2 shafts at 5.9 square metres per mining employee improved by 3.9%. Lonmin has immediately available ore reserves 4.0 million square metres, or 22 months average production.
Magara optimistic
While fundamental demand for platinum will be muted in 2016, Magara was optimistic about automotive and chemical industry demand for platinum despite concerns over the diesel market and the economic headwinds in China.
Autocatalyst demand, as the biggest demand segment at 43%, is forecast to grow by 2% while jewellery demand, the second biggest demand segment at 36%, will be static. Industrial demand, expected to make up about 17% of demand, will grow by close to 7%.
In the longer term, total platinum demand is expected to grow by nearly one million ounces between 2015 and 2025.
Lonmin has maintained its sales guidance at around 700,000 platinum ounces and its unit costs guidance at around R10,400. Its capex guidance has been reduced from $132m to $105m.
Magara said Lonmin has "delivered on our promise to restructure and cut high cost production in this oversupplied market while simultaneously reducing costs and improving cashflows."
He warned, however, that its "investment in relationships and the concept of shared value will be extensively tested in the coming wage negotiations especially with the backdrop of local government elections." He remained cautiously optimistic about wage negotiations, saying Lonmin has communicated to unions and employees about the economic realities.
He said results indicated Lonmin can operate at lower prices. It was changing those things which were in its control and mitigating those which were not.
While it still showed a loss, the underlying business was making money.