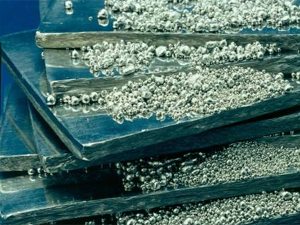 SOUTH Africa's platinum sector would deal more proactively with unprofitable production in the coming months as it was in a stronger position to do so, said Justin Froneman, CFO of Sibanye Gold's platinum division.
Speaking as part of a panel at the Junior Indaba, a conference being held at Johannesburg Country Club, Froneman said that in the past, the platinum sector kept production high in an effort to manage costs.
"I can understand why miners kept the foot on the pedal to manage cost of supply, but it kept us back for longer than it should have. It's the one commodity where we haven't seen the kind of discipline that we should have seen," he told the conference.
However, there had been a reduction in capital spending and a strengthening in industry balance sheets generally which would help it manage supply which was certain to fall.
"We are fundamentally bullish [on the prices of platinum group metals (PGMs)] or we wouldn't have committed R8bn on acquisitions, and with probably more to come in the sector," he said of Sibanye's takeover of Aquarius Platinum, the imminent purchase of Rustenburg Platinum Mines (RPM) from Anglo American Platinum, and the prospect of another acquisition in the pipeline, possibly before the year-end.
"The key thing is getting through the headwinds. We see flat rand prices for next 18 to 24 months before we see any notable re-rating in the price," he said, adding that 50% of the platinum industry was loss-making after capital expenditure.
South African platinum production peaked in 2006 whilst capital expenditure increased to an industry high of R31bn in 2011. Today expenditure is down to about R10bn as producers rein in net debt, he said.
"The industry is now a lot stronger to make those decisions now than before; I do think there will be more proactive management of unprofitable ounces," said Froneman.
Sibanye has said recently that it is aiming to become the third largest producer of PGM (4E) in South Africa which means that it still has to acquire over 200,000 oz of production annually, including the 1.1 million oz it already has provided the Section 11 change of control permit is allowed by the South African government for the takeover of RPM.
Lonmin produces about 1.3 million oz of PGMs (4E) annually whilst on a global level, Norilsk Nickel produces 3.4 million oz a year of PGMs putting it joint highest producer with  Amplats post the sale of RPM.
Speaking on the same panel, Piet Viljoen of investment company, ReCM, said that of all the metals markets, PGMs showed good upside potential, although diamonds was another preferred 'commodity' of his company.
"PGMs probably show the most promise," said Viljoen. "We think that supply will drop off quite sharply and with emission targets sharpened over time, demand will increase," he said. "There is also the optionality of fuel cells. That sector of the market shows quite a lot of value," he said.