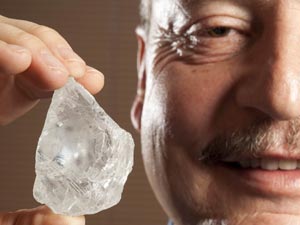 PETRA Diamonds CEO, Johan Dippenaar, said it would be "very difficult" to develop a junior mining firm like his in the current regulatory environment in South Africa.
"These days there is no flexibility in applying the regulations," said Dippenaar. "I don't think there is much chance for companies like Petra to operate small assets and then get the expertise and grow into a larger company," he said.
"There is a heavy burden of compliance," he said. Dippenaar was speaking at the Junior Indaba, a mining conference held at the Johannesburg Country Club.
Petra was listed on London's Alternative Investment Market in 1997 with an initial market capitalisation of about £10m. It has a current value of £606.5m.
Dippenaar said the mining industry and the South African government "will do itself a big favour if it can sort these things out", he said.
Petra built its business by buying up assets that were previously owned by De Beers – five in all with a resource base of 300 million carats. Using its expertise and lower cost base it was able to drive a profit from its diamond mines where De Beers had struggled.
The company created about 1,500 new jobs and generated hundreds of millions of dollars in turnover "… that wouldn't have been there" had the company not been able to develop from small origins, said Dippenaar.
The inflexible approach of unions was a contributing factor to the difficulties for emerging miners in the country whilst Dippenaar also alluded to environmental and social and labour red tape as proof of the burden of compliance.
"I hope we can avoid going to full destruction in South Africa," he said referring to the difficulties of the Tanzanian mining industry as it emerged from a period of nationalisation.