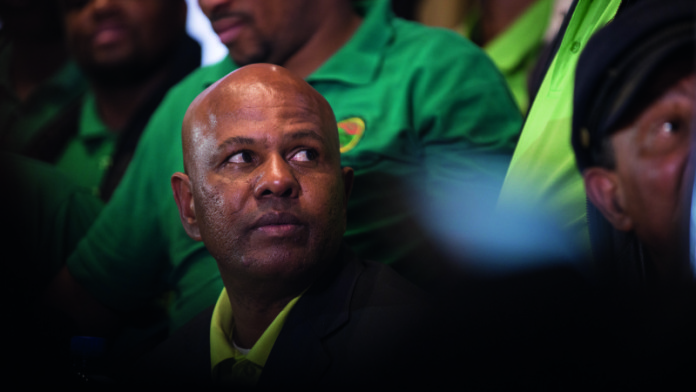 THE Association of Mineworkers & Construction Union (AMCU) intends to kick off wage negotiations in the platinum sector on July 12 at Impala Platinum (Implats) where it will demand a R12,500/month for lowest paid workers.
Increases of 15% for other bands will be demanded along with a five day working week. A one-year wage agreement is contemplated.
At a press conference, AMCU president Joseph Mathunjwa, said that given the rate of which inflation was running, it was "necessary for every worker to have a minimum wage of R12,500/month". Although AMCU is seeking a one-year deal, it would accept an extended deal of two to three years if given the mandate from members.
Asked if AMCU members had the appetite for a lengthy strike in the event of not agreeing a wage deal, Mathunjwa said; "We will give them [platinum companies] a strike if they demand it". AMCU led a five-and-a-half month strike in the platinum sector during 2013.
"It is not an earthquake," he said of demands for the usual R12,500/month minimum wage. "We want what is due to us," he said.
Mathunjwa said negotiations would open with Impala Platinum on July 12, followed by Lonmin (July 13), and Anglo American Platinum (July 14).
AMCU was prepared to engage the platinum companies collectively on wage talks. "It is entirely up to them if they want to club together and come to us," he said. "At the end of the day, if our demands are met … that is what matters most. If they want to be collective, that does not make any difference to us," he said.
Variations on wage settlements would also be contemplated.
"The three-year agreement we entered into (from 2013) … there were some items that were different at certain operations," he said, adding: "That does not mean we were sympathetic to them as they were giving themselves huge bonuses during the strike".
Asked if members had the appetite for another extended strike and whether they had recovered economically, Mathunjwa said: "The issue of recovering can be misplaced. If you look at the platinum now compared to where it was in 2013, it is in a much better position".
"We need to graduate from the point that if you improve salaries it will cost jobs. The issue here is the economy that doesn't address the issues that affect people," he said.
"Secondly, the [platinum] companies have retrenched, so they are geared for a better wage increase," he said. The price of platinum has improved about 25% year to date and was last trading at $1,084/oz.
Mathunjwa dismissed a 20% wage increase demand made by the National Union of Mineworkers (NUM) of the platinum companies as a publicity stunt. "We are not in competition with any so-called NUM; we are on our own; we are not pressurised by any demands that were never realised. It is just a PR exercise of some sort," he said.