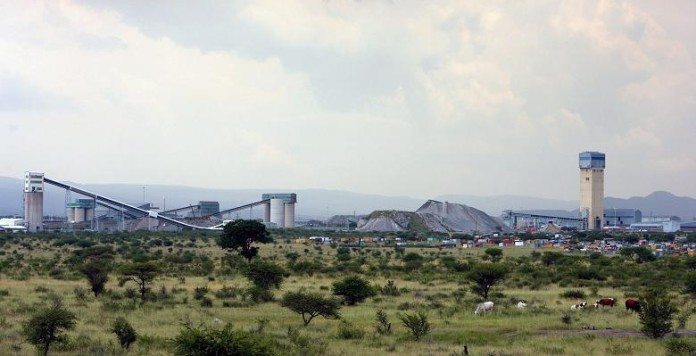 GROUND-sharing with Impala Platinum (Implats) has been highlighted as one of the best methods through which Sibanye Gold can extend its footpring in South Africa's platinum mining sector.
A report by Citi analyst, Johann Steyn, identifies Implats as the most natural partner for Sibanye which has said it wants to become the third largest producer of the white metal in the country.
If that were to materialise, Sibanye would have to produce 200,000 ounces a year more than it currently stands to mine once it has completed the takeover of Rustenburg Platinum Mines (RPM) from Anglo American Platinum (Amplats).
Once that transaction is rubber-stamped by the government, Sibanye will produce 1.1 million oz of platinum group metals placing it just below Lonmin which has nominal output of some 1.3 million oz a year. Acquiring that extra output could be achieved if Sibanye reaches out across its boundary at RPM to Implats' shaft one in its Rustenburg Lease Area.
Sibanye Gold also has a 50% share in Kroondal Platinum Mines, which is now shares in joint venture with Amplats, following its R4bn takeover of Aquarius Platinum earlier this year.
Said Steyn in a report dated July 8: "Given the geographical location of SGL's (Sibanye Gold's) assets on the Western Limb, we see only a limited number of potential scenarios for collaboration on the Western Limb [of the Bushveld Complex]".
These scenarios included a ground swap between Sibanye's RPM and Impala's Lease Area, or a sharing of mineral resources between Sibanye's Kroondal Platinum Mines and the neighbouring Marikana property which is owned by Lonmin.
There could also be a larger combined partnership between Sibanye, Impala and Lonmin whilst a fourth option was for Sibanye to buy the 50% in Kroondal it doesn't yet own, and potentially Amplats' Wateval smelter.
"On balance, we see scenario 1 (cooperation between Implats and Sibanye) as most likely given the scope for mutually beneficial results; it also offers the most compelling synergy potential, in our view," said Steyn.
Justin Froneman, CFO of Sibanye Gold's platinum division, acknowledged in an interview with Miningmx on June 1 that this was the type of transaction the firm could consider, as well as buy assets where the seller was in financial difficulty.
Debt is still high in South Africa's platinum sector whilst about 50% of the industry was losing money after capital expenditure notwithstanding the improvement in the rand basket price of PGMs. "There are many mechanisms that we're looking at to get more involved in the platinum sector," said James Wellsted, spokesman for Sibanye Gold.
Steyn added there were other factors that would see Implats and Sibanye combine as business partners. One was that Implats had excess smelting capacity whilst Sibanye had none. In other words, whilst Sibanye is able to mine the metal to a concentrate, it doesn't have its own facilities to refine the metal and has to pay other platinum producers to do this for it.
And although Sibanye has stormed the platinum sector since last year when it unveiled its bids for Aquarius Platinum and Amplats' RPM, it is working to some disadvantages compared to established participants in the market.
"SGL's Rustenburg assets have been under-capitalised and, in our view, will only be able to scavenge shallow UG2 ore in the near to medium term in the absence of collaboration," said Steyn.
"To become a more sustainable player, significant capital would need to be invested to build infrastructure to access deeper Merensky ounces – something we view as uneconomical," he said.
Chris Griffith, CEO of Amplats, said on July 26 that completing the disposal of its 50% in the Kroondal Platinum Mine, which logically should go to Sibanye, was not a priority whilst the RPM deal was outstanding.
Commenting on prospects for RPM, Griffith said he anticipated the South African government would approve the transfer of mineral rights to Sibanye Gold before the year-end.