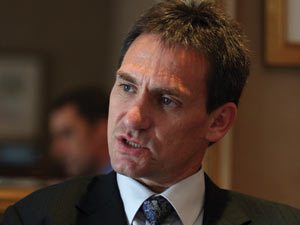 ANGLO American Platinum (Amplats) slashed net debt a quarter, lifted free cash flow R3.2bn, and said an interested party was kicking the tyres at its Union mine – the last major non-core asset it had committed to sell.
Together these factors provided evidence that the R104bn company's painful 2013 restructuring strategy, in which 15,000 jobs were cut, was demonstrating benefits. Of R1bn in planned savings this year, R400m had been achieved by the half-year.
However, certain headwinds persisted including "challenging macro-economic conditions", and wage talks with key unions, the Association of Mineworkers & Construction Union (AMCU) and the National Union of Mineworkers (NUM).
Amplats CEO, Chris Griffith, said that on balance, however,  South Africa's platinum industry had normalised compared to previous years whilst there was considerably "less noise" in the company's own affairs.
Speaking during a media conference following the publication of Amplats' half-year figures, Griffith said an interested party for its Union section was conducting a due diligence, and that he hoped to have something "more concrete" by the end of 2016.
The planned disposal of Rustenburg Platinum Mines (RPM) to Sibanye Gold was also "tracking well", he said.
Griffith said that the company had deliberately delayed the sale of Union whilst it closed down unprofitable production. "We have had a number of parties engaging and one party conducting due diligence as we speak," he said.
There was no further significant developments on the sales of its 49% stake in Bokoni Platinum Mines, nor its joint ventures in Kroondal (formerly with Aquarius Platinum, now Sibanye) and the Pandora Joint Venture which it shares with Lonmin.
On RPM, Griffith said he expected the South African government to approve the transfer of mining rights to Sibanye before the year-end.
"It's a tough market to be buying platinum assets," said Griffith in an interview with Miningmx. "We have been asked whether it was better to wait before selling assets at the bottom of the market, but the reality is this is part of our repositioning," he said.
Whilst Amplats had held back on the sale of Kroondal, there had been progress at Bokoni Platinum Mines after 51% shareholder, Atlatsa Resources, had "finally made the tough calls" to restructure the operation, said Griffith.
"Selling loss-making production is not the smart thing to do as that only makes it harder," said Griffith. Atlatsa said in April it would cut up to 3,500 staff reducing its operating shafts to two from four.
"Amplats' envisaged strategy of selling (or closing) high cost mines and redeploying capital to lower cost mines is a strategy we agree with and would serve the company well, longer term," said Johann Steyn, an analyst for Citi.
Griffith said the platinum market was likely to stay in deficit this year despite a report from Goldman Sachs which said South Africa would produce 400,000 oz more platinum. "I battle to see where that production will come from," said Griffith. "Demand is looking solid, but supply is fairly flat," he added.
Nonetheless, Amplats said in its half-year results ended June 30 that production would be "at the upper end" of guidance which was 2.3 million to 2.4 million oz. Output from RPM fell 10% year-on-year taking overall production from its non-core assets down 5% on average for the period whilst production from core or retained assets increased 8%.
About 12 days of production had also been lost – 20,000 oz at Amandelbult and a further 10,000 oz at RPM – owing to four fatalities reported in the year. Interruptions for a further 37 days at Amplats' Precious Metal Refinery had also been suffered during the period.
Overall, refined platinum production came in at 1.01 million oz (2015: 1.1 million oz) while platinum production was 1.15 million oz (2015: 1.13 million oz). Sales were 5% higher, however, to 1.22 million oz, and supplemented by a drawdown in refined inventory and market activities, the company said.
DEBT BECALMED
Amplats posted a 58% decline in interim headline earnings to just over R1bn after 2015 earnings benefited from a pre-tax stock gain of R2.2bn compared to R600m in 2016.
However, the company posted free cash flow of R3.2bn and reduced net debt a quarter to R9.9bn suggesting the group's restructuring plans, which began in 2013, were starting to take hold.
"Last year, there was a normalisation in the market with our first [restructuring] efforts coming through," said Griffith. "This year, there's less noise; generally, were are taking noise out of the system," he added.
"There were no specific targets regarding debt reduction although we want to get net debt down so that we can withstand whatever the cycle throws at us," said Griffith.
"We don't have any major capital expenditure until the end of 2017. We will then talk about dividends again and then the next capital expenditure," he said, adding that capital allocation would not necessarily be in that order.
Commenting on wage negotiations, which began with AMCU and the NUM earlier this month, Griffith said the industry was still not in position to absorb "unrealistic wage demands".
Said Griffith: "We have been losing 15,000 positions at Amplats over last number of years, and we have put Twickenham on care and maintenance. So this is still a desperate environment for the platinum sector, and we don't think unions should be pushing for unrealistic wage demands," he added.