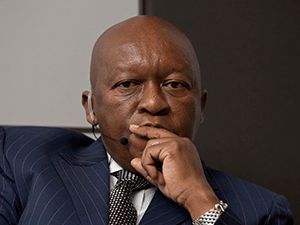 STEVE Phiri, CEO of Royal Bafokeng Platinum (RBPlat) tells of an irony following the firm's decision in August last year to slow development of its Styldrift I project, a R10bn venture that will double the firm's annual platinum group metal (PGM) production to about 600,000 PGM ounces.
Shortly after the announcement, the stock was quite heavily sold down – by about a third of its value over the course of the second half of 2015 – a turn of events that Phiri said could have been the result of a misunderstanding among shareholders who may have thought the firm was stopping the project, rather than timing it differently.
The irony is that even though investors recognise the importance of production discipline, especially in these shrivening days of the post supercycle era, they don't want their companies to be the ones doing it.
"They thought we were stopping Styldrift or putting Styldrift under care and maintenance and oddly got scared," said Phiri of some funds, adding however that some large institutions were supportive from the get-go.
"What I'm trying to say is that, in a way, it affected our share price because people said the model doesn't work. They were saying: 'I've invested in this company for growth and for value and now, if Styldrift is stopped, then it means the value has been destroyed,'" he said. Shares in RBPlat have since recovered from the beginning of the year to R49/share at the time of writing, an improvement of about 87%.
Phiri said the decision to slow Styldrift is now acknowledged to have been a right one. "I'm saving value by not producing these ounces into the market … but the market is beginning to understand it; they're beginning to appreciate it," he said.
Based on RBPlat's economic assumptions for Styldrift the potential opportunity loss, with the rand basket price languishing around R17,500/oz, would have been significant. "If we started ramping up over five years at prices they then were, we would lose R7.5bn over a period of five years," said Phiri.
Ultimately, this would have drained the balance sheet as RBPlat's plan is to finance Styldrift's capital expenditure with cash flow from its operating mine, Bafokeng Rasimone Platinum Mine (BRPM), bought from Anglo American Platinum in a black economic empowerment deal, as well as from ore mined as it developed Stydrift. BRPM produced 310,000 PGM oz in RBPlat's 2015 financial year.
We said hold it, close the tap completely. Don't leak money any more
"We were burning cash big time," said Phiri. "We were no longer generating sufficient cash from BRPM that could enable us to pay for Styldrift so were were more or less burning R200m per month on Styldrift capex. It was a problem because we were draining the balance sheet."
RBPlat reported a 57% decline in cash generated from operating activities, equal to R619m in its 2015 financial year compared to R1.4bn previously.
Cash and equivalents fell to R918m at the year-end stage from R1.9bn, a 50% year-on-year decline. The company is not indebted (and it has a R500m revolving credit facility) so it has liquidity, but the option of issuing shares for cash was a non-starter.
"We said hold it, close the tap completely," said Phiri. "Don't leak money any more."

RAMP UP
The current ramp up plan for Styldrift, which forecasts full production of about 300,000 PGM oz/year from 2020, now assumes that PGM prices will start to improve sustainably from about 2018 when the mine is producing about 100,000 PGM oz. But there's flexibility in the planning to accelerate this, according to analysts.
"If metal prices increase earlier there is some flexibility to ramp up the project earlier," said Gerard Engelbrecht, an analyst for Macquarie. Phiri's view is, however, that making big changes to Styldrift's ramp-up programme is not without its challenges.
"Switching the project on or off is quite difficult in terms of people and in terms of legal obligations that you commit to," said Phiri. "Therefore, we must be quite sure that when we start ramping up, it's the right time. Our projects are solely not based on speculation or hope but on the fundamentals."
In the meantime, RBPlat is hoping to keep cash flow from BRPM on track. The weakening of the rand against the dollar, and the improvement in PGM pricing should see the company meet its R1bn capex bill this year without dipping into its credit facilities.
One threat to this, however, is the risk of safety problems described by Phiri as the firm's most critical problem. Five fatalities were recorded by RBPlat during its previous financial year – a poor return on its safety initiatives that Phiri puts down to one factor: "Human error. All of them without fail was through human error."
He thinks poor decision-making by supervisors is an industry-wide problem in South Africa. "You find a supervisor who knows the job but is unable to provide leadership. To say, when a situation is dangerous, to get the hell out of this panel," said Phiri.
"He wants the members to vote instead of taking the leadersip and saying he doesn't think it's safe. What we're saying now is rather err on the side of caution. If you think the area is unsafe, it probably is," he said