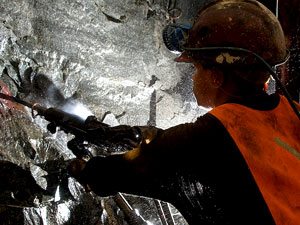 ATLATSA Resources' operational travails at its Bokoni Mines continued in the six months ended June with the company electing to shut its Klipfontein opencast section whilst production ramp up at the Brakfontein Merensky and Middelpunt Hill UG2 shaft will be delayed by up to a year owing to development problems.
On a positive note, however, the restructuring announced last year, in which it shut old shafts with the loss of about a third of its workforce from 6,342 to 4,074 souls, yielded promising results with a 13% reduction in average operating costs since the restructure began in February.
The outcome financially was a significant stemming in losses: attributable losses year-on-year were reduced to C$19.7m (R202m) compared to a loss of C$127.9m (R1.3bn) in the six month period of Atlatsa's 2015 financial year.
Atlatsa owns a 51% stake in Bokoni Mines, a platinum mine located in the north-eastern part of the Bushveld Complex. The company is listed in Toronto and Johannesburg.
The basic loss per share was reduced to four Canadian cents compared to a per share loss of 23 Canadian cents in the corresponding period of the previous financial year.
Achieving financial stability would be a crucial development for Bokoni Mines because Anglo American Platinum (Amplats), a 49% shareholder in Bokoni Mines, will be able sell its stake – as it considers it non-core – and give the operation a new lease on life.
"The implementation of the restructure plan remains a work in progress, resulting in certain operational challenges that include skills mix and re-training requirements among our labour force, all of which has had a negative impact on planned development at our ramp-up projects," said Harold Motaung, CEO of Atlatsa Resources in a statement.
As a result of these issues, there was a delay in primary development of the new shafts at Bokoni against Atlatsa's plan which would result in the planned production ramp up at Brakfontein Merensky and Middelpunt Hill UG2 shaft being delayed by six to 12 months.
"Management will, in the course of the next six months, investigate alternatives to minimise any further delays in capital projects build up at the operations," said Motaung.
Commenting on the decision to close the Klipfontein Merensky opencast mine, Motaung said it had been affected by delays in obtaining a water use permit from the South African government.
Other problems included stoppages at the eastern pit owing to community disruptions while the mining crew also encountered a large number of potholes on the western portion of the pit. "These challenges have impacted the operation's ability to deliver sufficient volumes to generate a profit," said Motaung. The mine will be closed by the end of 2016.