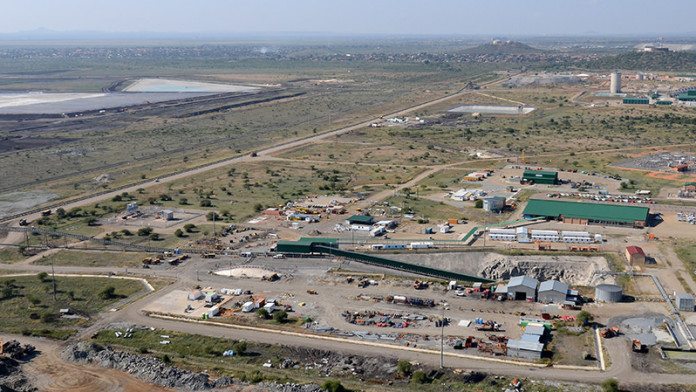 PLATINUM Group Metals (PTM), the Toronto-listed platinum group metal (PGM) production and development firm, has restructured terms of debt it raised for working capital following lower than anticipated output at its Maseve mine.
Maseve, a mine near Rustenburg on the western side of the Bushveld Complex in North West province,  is now expected to produce 91,500 ounces of PGMs (4E or elements consisting of platinum, palladium, rhodium and gold) during the 12 months ended April 2017 from 110,000 oz 4E previously forecast.
This followed "production challenges" related to the ramp up of stoping tonnes. "Project construction savings have offset some but not all of the costs resulting from the delay," it said. The mine was built for $500m via debt and equity finance.
"Difficulties and delays have been experienced in certain areas of underground infrastructure, causing bottlenecks in the movement of waste and ore out of the mine," PTM said today in a statement.
"Completion of the first underground silo top, the addition of a belt loader at this silo and future top and bottom completions at silos two and three are expected to increase production from September 2016 into 2017," it said.
"Direct Platinum Group Metals oversight of the underground contractors has been increased in the past 60 days. Underground equipment maintenance management has been changed and equipment availability is improving," the company added.
Production in August totalled 1,893 ounces 4E and associated copper and nickel in concentrate and was expected to double this month and then continue to increase monthly into 2017.
PTM has targeted production of 110,000 oz/year of 4E in its first year increasing to 185,000 oz 4E in its second year before reaching steady-state production of 250,000 oz 4E.
Following a due diligence of the mine in August, PTM's investors Sprott Resource Lending Partnership (Sprott) and Liberty Metals & Mining Holdings (LMM) agreed to amend their financing terms such that repayments of debt provided for work capital would delayed.
Sprott and LMM each lent PTM $40m. The first repayment due by PTM would now start from January 2018 instead of January 2017.
PTM has also agreed to "extinguish" its right to buy back a 1.5% royalty of net proceeds from LMM whilst Sprott and LMM are also to receive about 800,000 new shares each in PTM. Minus a 10% discount and converted into US dollars this converts into $2m of new shares each.
PTM also said it had entered into discussions with the lenders regarding an increase to the current credit facilities for additional working capital for the Maseve. There is no assurance that any such increase will occur, it added.