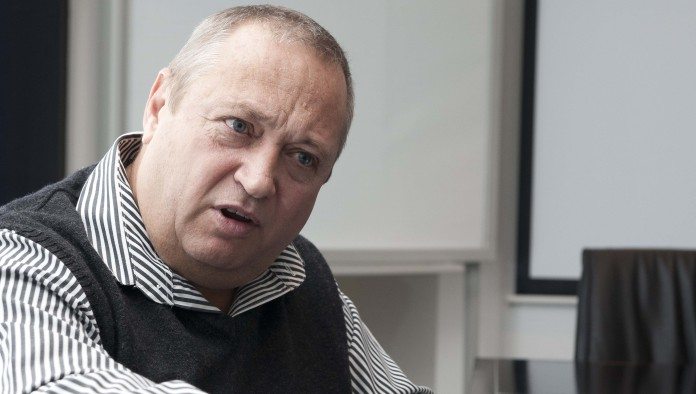 SIBANYE Gold is to buy New York-listed platinum group metal (PGM) producer, Stillwater Mining Company (Stillwater), for $2.2bn in a deal that internationalises the South African firm and increases its PGM output 50% to 1.6 million oz.
"The transaction represents a transformational opportunity for Sibanye to acquire high-quality, low-cost, PGM assets at a favourable point in the cycle," said Neal Froneman, CEO of Sibanye Gold.
Buying Stillwater, which is known for its palladium production, also means Sibanye Gold will produce nearly as much PGMs as gold. The firm has guided to gold production of 1.7 million oz in its 2016 financial year.
Once Stillwater has completed its $175m to $190m Blitz project, however, PGM production could be closer to about one million oz/year, Froneman said. The palladium:platinum split was about 78%:22%, he added.
This will make Sibanye the world's third largest palladium/platinum producer and the fourth largest 4E PGM producer – all brought about by one of the largest transactions corporate South Africa has seen in many years.
Sibanye will offer $18/share for Stillwater, equal to R30bn, which represents a 23% premium to Stillwater's share price as it closed on the prior day, and 20% to Stillwater's 20-day volume-weighted average closing share price.
JP Morgan Cazenove described the offer as "a very full price" as well as "significant balance sheet risk" owing to some $865m of debt reduction that would have to take place for Sibanye to reach a reasonable level of net debt compared to its underlying earnings.
RIGHTS ISSUE
Financing of the transaction – which is R4bn more than its R26bn market capitalisation – would initially be through a $2.7bn bridge loan commitment with fresh debt and a minimum $750m (R10.2bn) rights offer after the deal is closed.
Some shareholders had support for a higher rights offer component, said. Asked why a rights offer was preferred over an all-scrip offer, he replied: "Given our share price better, it is better to do a rights offer than give other shareholders our shares".
The debt portion of the transaction means that Sibanye would take net debt to 2.2 times earnings before interest, tax, depreciation and amortisation (EBITDA). Froneman said previously that, all things being equal, Sibanye was comfortable with a net debt to EBITDA ratio of 1x.
"We said in the past that it would not be more than 1x, but we also said that for purposes of a deal, we would not have a problem if it exceeded this for a short period," he said.
"For this transaction it will become 2.2x and in a year back at 1.5x assuming the $750m rights offer. That is our minimum. We will probably want to do more.
"The shareholders we have crossed in last few days have indicated their support for the rights offer and in some cases, an even larger rights offer. So we will quickly get back to 1x net debt:EBITDA, and if do larger rights offer, even quicker."
The transaction is expected to close in the second quarter of 2017.
The deal requires the support of Stillwater and Sibanye shareholders along with other regulatory hurdles. Sibanye said that the Public Investment Corporation and Gold One International supported the deal equal to 29% of its share register.
There was unlikely to be any concerns voiced by the competition authorities as its PGM products would be sold "in very different markets," said Froneman.
Stillwater CEO, Mick McMullen said his company's shareholders supported Sibanye's offer. "The transaction allows our stockholders to realise immediate value and also positions our operations and employees as part of a pre-eminent global precious metals company," he said.
Stillwater currently comprises two underground PGM mines – the Stillwater Mine and the East Boulder Mine – as well as the Blitz organic growth Project and the Columbus Metallurgical Complex which, importantly, presents Sibanye with refining or mine-to-market capacity.
"The transaction is consistent with Sibanye's strategy of creating superior value for all of our stakeholders by enhancing the cash flow generation through value accretive growth," said Froneman. It would not threaten the group's strategy to pay dividends and dividends would "absolutely not be stopped" in the immediate aftermath of the transaction, he said.
In addition to the "mine-to-market" PGM business, the Stillwater acquisition also gave Sibanye "a sizeable recycling operation provides a steady margin and strategic market insight", the company said in its formal announcement.
The transaction would also position Sibanye for a re-rating and would take its average operating cost lower with potential for further cost reductions thereby increasing cash flow, it said.
"This transaction balances Sibanye's portfolio operationally and geographically with the addition of a world-class operation in an attractive mining jurisdiction," said Froneman.
"We believe that our two organisations have a strong cultural fit, with mutual priorities of employee health and safety, the environment and the communities in which we operate," he said.

SEEKING RERATING
Asked in a media conference call this morning why Sibanye hadn't considered a bid for a South African company, such as Impala Platinum which is worth about the same as Stillwater, Froneman said positive cash flow was a consideration, as well as Stillwater's participation in the recycling industry.
"I'm not commenting on specific companies, but Stillwater is generating cash. It is also a predominantly palladium producer, so the rationale was to get more exposure to palladium as the deficits there are looking quite robust, more so than platinum," he said.
"This should not be seen as a first step in exiting South Africa," he said. "We are very focused on being a South African champion and our listing will remain primarily in Johannesburg," he said.
He added that Sibanye was not given the same rating as companies that had similar dividend yields. "We are not as geographically diverse as some of our competitors. If we want to be South African mining champion, it means we have got to play on the playing field internationally; the timing of this move is also at a low point in the cycle," he said.
Stillwater would also offer unique insight into the market through its recycling activities which hit a record of 175,000 oz in the last quarter, or some 700,000 oz annualised. Recycling was not well understood in terms of how it affected the supply-demand equation in PGMs, said Froneman.
"In addition to being commercially profitable, it is important market intelligence in this market and that appeals to us. It's also a bit of downstream fabrication, and diversification," he said.