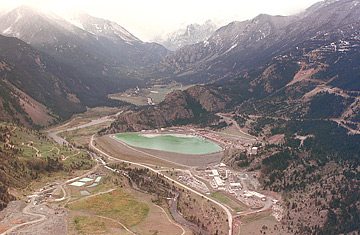 SHARES in Sibanye Gold lost nearly 12% on the Johannesburg Stock Exchange by midday as investors reacted to its R30bn cash bid for Stillwater Mining Company, a US palladium and platinum producer.
Some analysts described the offer, which will be partially paid for with a minimum R10bn rights offer, equal to 39% of Sibanye's shares in issue – as "very full" in terms of valuation, but that response is unlikely to rattle Neal Froneman, Sibanye CEO.
He said the group remained focused on more corporate activity in the future, and said it was likely the company would supplement its whirlwind growth in platinum group metal (PGM) production with gold-related transactions.
"The window is opening again in the gold space and may see some growth in that area as well," he told analysts in a presentation in Johannesburg today. "If we can find accretive deals in gold, we will do so; we are not transforming the company into a platinum company," he said.
Once Stillwater has completed a $175m to $195m Blitz project expansion, which will take PGM 2E (palladium and platinum) to 800,000 to 900,000 ounces/year, Sibanye will have total PGM output of two million oz/year. This will make it the fourth largest PGM producer in the world, just behind Impala Platinum and put its 1.7 million oz annual gold output in the shade.
However, Froneman said Sibanye was still eyeing gold assets, especially mines in production, although he added that future acquisitions would need to be sizeable – of between 300,000 to 500,000 oz/year – in order to make a meaningful impact on Sibanye's existing output.
Nor had the PGM growth strategy ended either: "We are not done on the PGM strategy," he said in response to an analyst question. "Our focus is on closing out this transaction, raising the debt, and doing the rights offer.
"Once we are back down to normal leverage levels, we will determine our next step. We are going to do more to fill the gap in terms of mine-to-market in South Africa," he said.
The debt portion of the transaction means that Sibanye will increase net debt to 2.2 times its earnings before interest, tax, depreciation and amortisation (EBITDA) – far in excess of its current net debt to EBITDA ratio of 0.5x.
"We said in the past that it would not be more than 1x," Froneman said of the firm's ideal net debt levels, but he added that for purposes of the Stillwater deal "… we would not have a problem if it exceeded this for a short period".
"For this transaction it will become 2.2x and in a year back at 1.5x assuming the $750m rights offer. That is our minimum. We will probably want to do more," he said.
But analysts worried about the multiple being paid for Stillwater. The offer of R246.6 per Stillwater share represents a 12% premium to the UK firm's peak share price during the last 10 years.
"By Sibanye's own admission, the valuation paid for Stillwater's operating assets looks full," said UBS analysts, Danielle Chigumira and Kieron Daly in a note to client. Citing Sibanye's view, however, they said the market might not be factoring in the benefit of the Blitz project.
JP Morgan Cazenove described the offer as "a very full price" and that some $865m in debt reduction would have to take place to return Sibanye to a comfortable net debt:EBITDA ratio of 1.5x.
"In our view, this introduces significant balance sheet risk into the Sibanye investment case, which has been absent even post its acquisition of Aquarius Platinum and Anglo Platinum's Rustenburg platinum mines," it said.
Goldman Sachs – a PGM bear at present – said it didn't see any foreign exchange tailwinds, or operational synergies that would flow from the transaction. But its main concerns were with the market for PGMs.
"While post the US elections, palladium has rallied, we see the upside capped to the metal as our auto team sees the US auto market (which is one of the biggest consumer) peaking," it said.
"Also, growth in China auto market (another big consumer of palladium) depends on the government extending tax cuts," it added. But Froneman thought the market timing was about right.
Said Froneman: "Stillwater is a high quality asset, literally in steady state, with a project that is ramping up that is not high risk.
"We are certainly a team and board that looks with a four- to five-year view. We are not about today, or tomorrow; we take a long-term view, and we are confident in what we are doing," he said.
JP Morgan said that if Sibanye could manage the net debt – which would top $3bn – down successfully, there were rewards to be had.
"If it is successful in achieving this leverage target, Sibanye's combination of high quality gold and platinum assets spanning South Africa and North American, plus a well capitalised balance sheet, would be an attractive investment proposition in our view," it said.
"In our view the proposed transaction, if successful, is a 'company maker', positively transforming the group," said the UBS analysts. They expressed surprise, however, by the size of the deal, and the fact the assets were in North America.