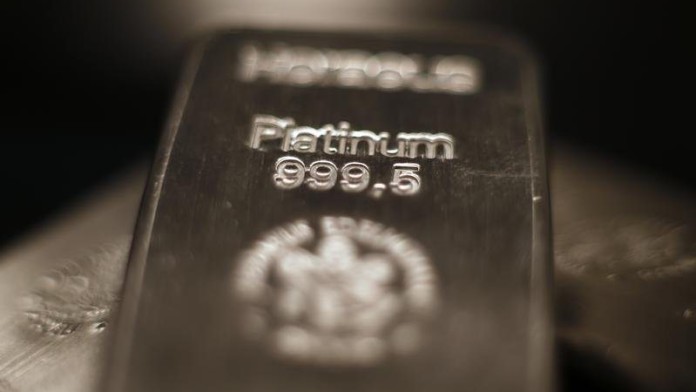 APART from Goldman Sachs, which is bearish, analysts are finding reasons to be cheerful regarding the platinum price which has troughed, they believed. However, they warned the recovery in the price of the metal would be slow and painful, and there will be pain too for South African platinum shares.
"We view the current spot rand basket as too low," said Citi analyst, Johann Steyn in a research note dated March 23 when the rand platinum price was at R12,048 per ounce against the rand price at the time of writing of R13,246/oz.
"Given our view of the market supply and demand and inventory levels, we view a range of R12,700 to R13,400/oz over the near to medium term more appropriate," he added.
The depreciation of the rand over the last two weeks, precipitated by President Jacob Zuma's cabinet reshuffle which included the firing of respected finance minister, Pravin Gordhan, has already seen the rand-based platinum price reach the upper end of those forecasts.
As a result of the poor platinum price last year, valuations of South African platinum stocks had fallen heavily. "The upside outlook, together with recent falls in equity values, has made us incrementally more bullish on the sector," said Steyn. He recommended Impala Platinum (Implats) and Royal Bafofkeng Platinum (RBPlat) as 'buys' while he also upgraded Anglo American Platinum (Amplats) to a buy while Lonmin was 'neutral to high risk'.
Investec Securities has taken a similarly cautious approach to platinum shares.
"We believe PGM [platinum group metal] prices have troughed, mainly based on our expectation of a recovery in global growth," said Nkateko Mathonsi, an analyst for the bank. "However, we anticipate a slower recovery for platinum in line with slower economic recoveries in the Eurozone and China, the major platinum markets.
"We believe platinum demand will continue to face headwinds, particularly slowing jewellery demand in China, mainly as a result of this market reaching maturity," he added.
Perhaps alarming for platinum shares was the scope for more restructuring with an estimated 85% of aggregate throughput from Amplats, Implats, RBPlat and Northam Platinum unlikely to cover total operating costs, including total capital expenditure, at the current spot price by 2021, compared to 63% which couldn't cover costs today.
This implied the likelihood of further cost curtailments and supply rationalisation and that PGM prices were likely to rise as supply slimmed down. Nonetheless, Investec believed investors ought to plump for quality – focusing on cost structures, sensitivity to labour and electricity costs, the life of mine of reserves and safety – if they are to investment in South African platinum.
"We rank Amplats first, followed by Northam, RBPlat and then Implats," said Mathonsi. "Amplats' rating is bolstered by Mogalakwena while Northam's rating benefits from Booysendal North and the upside potential of the new Booysendal South project," he said.