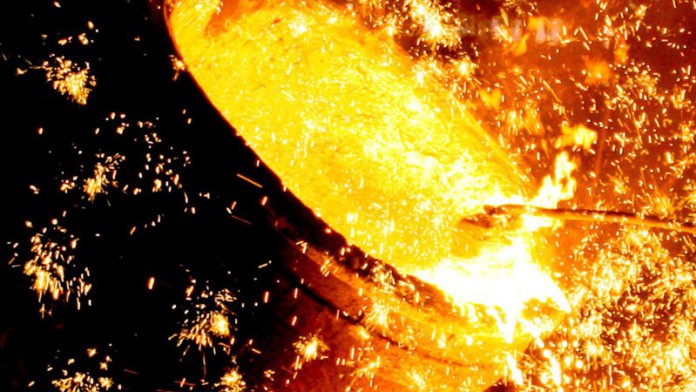 TECHNICAL problems in processing which lead to lower sales, and a stronger rand, would impact the interim earnings of Anglo American Platinum (Amplats), the Anglo American subsidiary said in an announcement today.
The group said refined platinum production was negatively affected by a smelter run-on of its Waterfal Furnace Number 1 smelter in the third quarter of Amplats' 2016 financial year.
The furnace has been repaired and was running at steady state, but there was a backlog of some 65,000 ounces of platinum that would be made up during the second half of Amplats' financial year. Amplats said that it had also embarked on a rebuild of its Waterval Number 2 furnace in the first quarter of the current financial year which had subsequently ramped-up to steady state.
In addition, there was a high pressure leak at the Converter Plant (ACP) which affected the converter plant (Phase A) of Waterval on June 4. This also led to a backlog in refined platinum production, it said.
Amplats said the second converter plant (Phase B) was heated up and returned to steady state production some 10 days later, but the time required to reheat Phase B created a 90,000 oz backlog of refined production from the second quarter. "The result of the planned rebuild of Waterval Number 2 furnace and ACP Phase A event has impacted refined production for the period, and therefore lead to lower sales volumes," the group said.
In addition, headline earnings and earnings per share would also be affected by R2.2bn in impairments which were booked by the company in the first half of the year.
These included Union mine, which Amplats said in February it would sell to Siyanda Resources for R400m as well as other write-downs of R950m and R45m related to the firm's investments in Bafokeng Rasimone Platinum Mine – owned by the Royal Bafokeng Platinum – and Bokoni Platinum Mines respectively.
The impairments that impacted basic and headline earnings include the write-down of a term loan to Atlatsa and a loan to the Bakgatla Ba-Kgafela Community related to their interest in Union, it said.
The outcome is that headline earnings and HEPS for the period are likely to decrease to between R550m and R875m (or between 67% and 47% lower than the prior year restated figure of R1.65bn) and to between 210 cents and 335 cents per share (or between 67% and 47% lower than the prior year restated figure of 629 cents) respectively.
Amplats is due to present is interim figures on July 24.