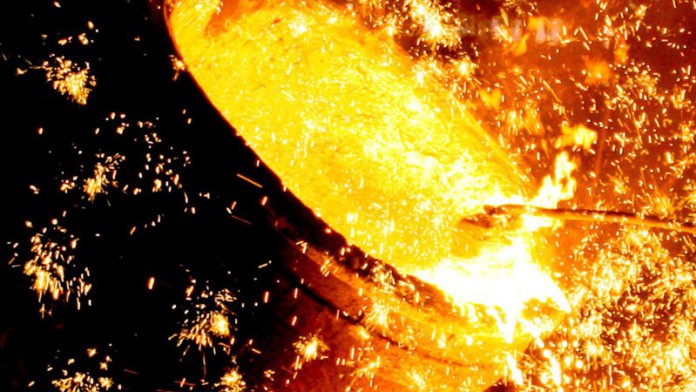 IMPALA Platinum (Implats) reduced its gross refined platinum production target to between 1.51 to 1.56 million ounces for its 2018 financial year following a discovery in the first quarter that maintenance at one of the furnaces at Impala Rustenburg would take longer to complete than anticipated.
The previous target was gross refined platinum production of between 1.57 to 1.61 million ounces. "There will be some 50,000 oz of platinum locked up in the system," said Johan Theron, group executive of corporate relations at Implats. "The platinum production guidance remains the same, however," he said. The value of the metal that won't be refined is R1.25bn assuming a current rand basket price of R25,000 per ounce.
Guided platinum production for the year was expected to be between 1.36 million oz to 1.32 million oz with the balance made up of third party supply processed through Impala Refining Services.
Commenting in its first quarter update, in which the scourge of mining fatalities continued at the group, Implats said it had discovered "excessive wear" at Impala number 5 furnace during the planned maintenance of the furnace as well as Impala number 3 furnace. As a result, a decision was taken to "completely refurbish it", said Implats.
The outcome of the extended maintenance of Impala furnace number 5 is that it is only scheduled to return to production from December. This will impact planned pipeline stocks at the half-year point and year-end as capacity constraints at the base metal refinery will not allow all the accumulated smelter matte stocks to be fully processed in 2018, it said.
"Consequently, notwithstanding mined production being in line with guided levels, gross refined platinum production for the group is now expected to be between 1.51 and 1.56 million ounces of platinum in 2018," the company said.
First quarter platinum in concentrate production was 349,000 oz, a 6.7% increase over the 327,000 oz produced in the first quarter of the previous financial year. This was partly down to a stronger showing at Impala Rustenburg.
Final refined metal output was affected by the maintenance programs at Impala as well as Zimplats, however. Gross refined platinum for the quarter fell by 6.6% to 341,200 oz, compared to 365,200 oz achieved in the prior period.
Under pressure mine, Marula, delivered and improved performance in the quarter. Increased tonnes resulted in a 9.4% lift in platinum in concentrate productionto 23,200 oz compared to the 21,200 oz in the prior corresponding period. Implats has targeted concentrate production of 85,000 oz from Marula for the 2018 financial year. It said at its year-end results presentation in September that it "could not continue to feel sorry" for Marula which has been loss-making.
"Overall a weak set of results," said Goldman Sachs in a report. "While lease area [Impala Rustenburg] was ahead of our estimates, maintenance at Impala and Zimplats saw gross refined platinum production being behind schedule. The decision to refurbish furnace No. 5 at lease area will see gross refined platinum production coming below original guidance which will have an impact on the cash flows," it said.
Theron said although less metal would be refined that anticipated it would be able to sell metal "in the vault" and therefore the lower refined metal production would not have an impact on cash flow.
He added that the delay in refined metal production could work in favour of Implats if it were sold at a higher price. "50,000 oz produced while price is R22,000/oz and sold later when price is R25,000 oz results in a R150m positive cash impact," he said.
Implats said in September that it expected cash burn to continue at Impala Rustenburg for most of the 2018 financial year until efforts to improve its productivity and lower costs materialised. The company said it was sufficiently capitalised, however, to withstand what is expected to be heavy restructuring throughout the year.
Nico Muller, CEO of Implats, said that 2,500 jobs were "at risk" at Impala Rustenburg in a most likely first phase of restructuring of the mine. Commenting on the first quarter numbers, he said: "We are pleased to note early signs of improvement in efficiencies and production levels at the Impala Rustenburg operations in line with planned interventions," he said. "Marula, which has undergone an organisational restructure recently, delivered a pleasing turnaround and an increase in concentrate production."
Implats continues to struggle with safety at its operations which it described as "disappointing". All in all, six employees passed away owing to incidents at the mines in the first quarter: five at Impala Rustenburg and one at Marula. "We are confident that operational discipline will improve safety," said Theron. "The two things go hand-in-hand." The group said it was working with the Department of Mineral Resources and AMCU, the majority union at Implats' mines.
"Safety remains an issue at Impala Rustenburg and Marula," said Muller. "This is being dealt with at all levels within the group to receive the necessary support and resources to reverse these poor safety performances," he said.