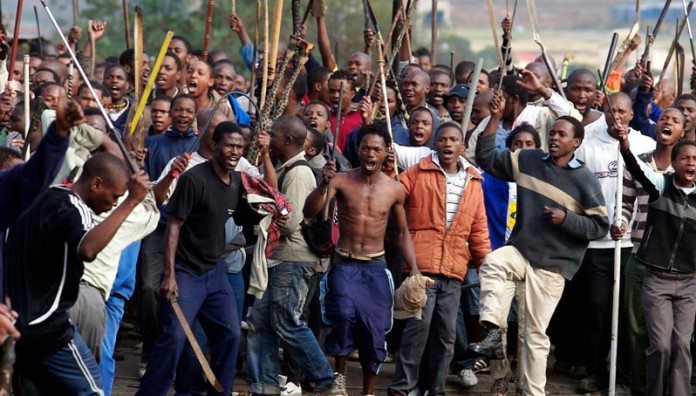 A PERSON was shot dead last night at the premises of the Bafokeng Rasimone Platinum Mine (BRPM), which is owned by Royal Bafokeng Platinum (RBPlat), during a violent protest in which about 100 people tried to gain access to the property.
The event is thought to be the latest turn in a dispute following the dismissal of 14 employees in December who had been engaged in unprotected strike activity. The strike activity was related to the "erroneous" suspension of services by the Rustenburg municipality to homes in the nearby Waterkloof Estate.
During the incident, protestors set fire to a conveyor belt, burning about 200 metres of the equipment. A boom gate as well as a guard house were also damaged, but there was no other damage to mine property, or injury to mine employees. Operations at BRPM are unaffected, but the situation is highly tense.
In events reminiscent of the Marikana tragedy, in which 34 miners were shot dead by police in August 2012 following a period of protest action, RBPlat said it noted "… widespread protest action currently underway in the Rustenburg area unrelated to mining issues". It called for calm by all parties.
RBPlat said in a statement that the protestors, including former employees and unknown persons, tried to gain access to the North Shaft at about 8.30pm last night. Although the premises were locked, mine security attempted to disperse the crowd using rubber bullets and paint-balls.
It was during this time that a person in the crowd – who is not an employee – was shot dead by someone firing live ammunition. RBPlat said it believed the shooting was from within the group of protestors based on preliminary evidence, including video footage. An investigation into events has begun and the matter is now the subject of a criminal investigation. RBPlat said it had advised the South African Police Services at the time the protest developed.
Commenting on the disputes since the illegal strike, RBPlat said these issues "… have been dealt with repeatedly by the company with community members since December 2017 in a number of forums, and the company assisted in resolving the delivery of services, even though this was not within its remit".
"RBPlat management has called on local community members to refrain from engaging in violence, threatening behaviour and damage to property," the company said. "The company notes widespread protest action currently underway in the Rustenburg area unrelated to mining issues, and calls for calm by all parties," it added.
RETRENCHMENTS
2017 represented a bad year for the South African platinum sector. The price of platinum remained stubbornly low and companies therefore sought to minimise their losses by cutting into staff numbers.
This culminated in December with the proposed takeover of Lonmin, which employs about 30,000 people in the Rustenburg region at its shafts, by Sibanye-Stillwater. Sibanye-Stillwater said at the time that it was considering retiring unprofitable platinum ounces if its takeover proposal succeeded.
Before that corporate event, however, Impala Platinum announced it may cut back on roughly 2,500 jobs although it hadn't arrived at a final decision. Although not located near Rustenburg, Anglo American Platinum (Amplats) and Atlatsa Resources announced plans to put its Bokoni Platinum Mine on care and maintenance with the loss of 3,651 staff.
Another company, Platinum Group Metals (PTM) suffered a $590m loss for its full-year and placed its Maseve mine into mothballs – to be eventually bought by RBPlat which had already in August announced plans to redeploy 60% of its staff from its South Shaft at BRPM which was unprofitable. Despite the redeployment about 660 jobs were lost.