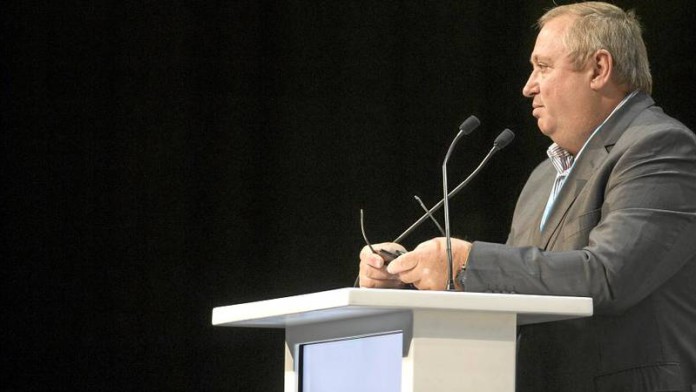 IN a year of rollercoaster fortune, Sibanye-Stillwater had one of its brighter days, the share price of which ended just over 10% higher in Johannesburg following the resounding  support of shareholders for its merger with Lonmin.
A total of 99.65% of Sibanye-Stillwater shareholders who voted gave the nod to the merger which was born in the last few days of 2017. The transaction, nearly 18 months in the making, is now all but finalised with court sanction one of the remaining conditions.
That support was mirrored by Lonmin. Roughly a month after Lonmin's chairman, Brian Beamish exhorted shareholders approve the deal – amid diminishing options for survival – the UK firm's investors were 98% in favour. Just over 1% withheld their votes. The net outcome was the creation of the world's largest primary platinum producer.
"The rationale for this transaction remains compelling and we are convinced the integration of Lonmin's PGM (platinum group metal) assets with Sibanye-Stillwater's adjacent PGM operations, will ensure a more sustainable and positive future for all these assets," said Froneman in a statement.
"The transaction, once successfully completed, will establish the Sibanye-Stillwater group as the largest primary producer of platinum and second largest primary palladium producer with a unique geographical and platinum group metal mix," he said.
Froneman indirectly acknowledged the role played by the Competition Appeal Court which ruled against an action brought by the Association of Mineworkers & Construction Union (AMCU). The union feared further job losses but the court earlier this month recognised it as the only rational solution to Lonmin's vulnerable balance sheet, currently buoyed by financial engineering rather than sustainable cash flow.
Sibanye-Stillwater now has the task of integrating Lonmin in the teeth of wage negotiation season in the PGM sector of which AMCU is the major player.
The company is also trying to return its gold mines to working order following a five month AMCU strike which weighed heavily on its financial performance. Sibanye-Stillwater's gold division recorded a R1.66bn loss in the first quarter of the 2020 financial year and is set to post another disappointing quarter as the mines grapple with a peaceful ramp-up.
Sibanye-Stillwater also has to work through a restructuring of the gold mines as announced on February 14 potentially affecting 5,870 employees and 800 contractors.
Froneman resorted to financial engineering of his own to ease the company's own balance sheet in the absence of positive cash flow from gold production. It placed shares and sold forward metal raising just over R3bn which went into debt reduction.
The question is whether Sibanye-Stillwater dare test the market's patience by registering a bid for the South African assets of AngloGold Ashanti – chiefly Mponeng and Mine Waste Solutions – which are up for sale? AngloGold's South African assets have been accorded a book value of between $500m to $600m by analysts.
Froneman has said in the past that following the Lonmin deal, and assuming net debt to EBITDA could be tamed, he would consider adding to the gold portfolio. Excluding South Deep, to which Gold Fields seems committed (for the time being), Mponeng is the last of the Witwatersrand's major gold riches.
Production from Mponeng, South Africa's deepest mine, is set to rise to an estimated 363,000 ounces by 2023, but it needs around $1bn in new investment over a ten-year period to access new reserves from around 2027 or 2028. As such, Mponeng might represent Froneman's last gold gambit in South Africa.
The timing isn't good for Sibanye-Stillwater but Kelvin Dushnisky, CEO of AngloGold Ashanti, acknowledged the potential difficulties buyers may have by saying the firm would consider a number of formats to complete the deal. He also didn't rule out abandoning a sale in lieu of a satisfactory offer.