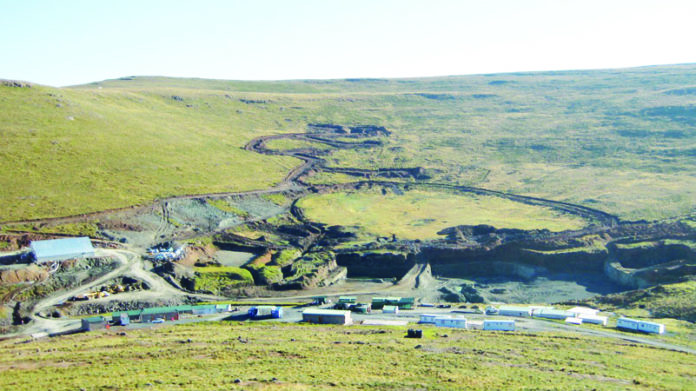 LUCAPA Diamonds, an Australian-listed company operating in Lesotho, said sales for the 2019 financial year so far totalled $7.3m following a second tender of stones recovered from the firm's recently commissioned Mothae mine.
A parcel of just over 7,000 carats was sold in Antwerp for $3.5m and included prices on some items of up to $26,000 per carat.
Stephen Wetherall, MD of Lucapa, said in an announcement on May 29 that he was heartened by the number of high value stones that had been recovered from the mine which had restricted itself this year in operating a low margin section.
This was in order to preserve water contained in a pit that would be needed in the second half of the financial year – the southern hemisphere winter – when rainfall is lower. Mothae was also being mined in such a way that more higher grade diamonds would be mined in the second half of Lucapa's financial year.
"These results add to the excitement as our mining campaign prepares to transition to the higher-margin diamond zones," said Wetherall.
On a year-to-date basis, the average overall value of some $588 per carat run-of-mine production was achieved. In the larger diamond category, an average value of $729 per carat was registered.
Lucapa is subsequently considering a third tender before the half year following strong recoveries from Mothae's newly commissioned 1.1 million ton per year kimberlite plant, including the 126 carat gem-quality diamond recovered earlier this month, it said.
The relatively strong market performance for Mothae rough gems will be sweet music to  Lucapa's lenders which includes non-executive board member, Ross Stanley. Lucapa announced on April 4 that limited company, New Azilian, would lend A$10m to Mothae. The loan agreement replaced more expensive debt the company owed to Equigold, a private company registered in Singapore.
As announced, the loan was a one-year facility offered at an interest rate of 10% with the option to pay up to half of the interest due in Lucapa shares, provided shareholders agree. New Azilian has advanced Lucapa A$6m of the loan facility with the balance to be drawn following Lucapa's annual general meeting in May.
Lucapa also mines the Lulo diamond mine in Angola with the southern African government and a local business. Lulo paid a $1.6m dividend to Lucapa in December.