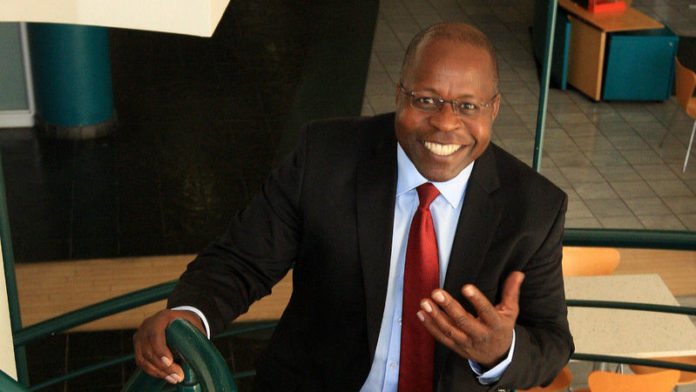 CORPORATE deaths are rarely spectacular; not the denouément, in any case. Rather, the lawyers move in and with a swish of the pen life moves on.
So it was with Lonmin earlier this month: 20 years after its creation as a focused mining company, the office chairs were stacked and someone turned the lights off. It had taken over a year to conclude its all-share merger with Sibanye-Stillwater – more than might really be necessary, but as ever with Lonmin, events rarely ran smooth.
Ben Magara's role in the Lonmin story began six years ago to the month, not a year after the Marikana atrocity in which 34 protesting miners were shot dead by security forces. Ten miners had been killed in the prior week, largely as a consequence of inter-union rivalry.
Commenting in an interview with Miningmx at Johannesburg's Melrose Arch, in the same hotel conference room where he met Neal Froneman, Sibanye-Stillwater's CEO, Magara laments the way the Marikana event became a story of political collusion.
Before Marikana unfolded, South African president, Cyril Ramaphosa, then non-executive director of Lonmin and not yet returned to politics, had asked for "concommitant action" against protest action by members of the Association of Mineworkers & Construction Union (AMCU) that considered to be "dastardly" and "criminal".
"From August 9 to August 16, ten people died at the hands of the strikers," said Magara. "That element seemed to get forgotten", he said referring the justified global condemnation of Marikana following the police shootings. "Marikana them moved quickly. It moved to a political issue," he said.
The reality is that it was a consequence of union tension and, before that, the fact employees and communities had been left behind. Hostel-style housing and then the well-intentioned by ultimately wayward policy of living-out allowances created the conditions for social upheaval.
The romantic notion is that after Marikana, Lonmin was a cursed company. Certainly, its name would always be connected with the events of August 2012; but that's not the reason it closed its doors forever on June 10. "For me, it's got nothing to do with Marikana, it's simply because the PGM [platinum group metal] price has not recovered and Lonmin is such a leveraged business," said Magara.
Magara had previously been in the Anglo American fold helping to run its coal division, where he was CEO, and at Anglo American Platinum. Anglo always stood as a big brother behind its subsidiary companies, but Lonmin had no such insurance and was horribly exposed to the failing platinum price.
In geography and commodity it was, in Magara's phrasing: "A one-trick pony". The company had twice tapped shareholders for major funds and by 2012, patience was at an ebb should there be another. It was sink or swim.
For four years, Lonmin attempted to pull its levers in the hope that the platinum price would revive. In July 2013, as Magara walked through Lonmin's doors for the first time, platinum was trading at around $1,360 per ounce.
Two years later, just as Lonmin began to run out of operational options, platinum was around $1,000/oz. And as someone closed the office door for the last time this week, the platinum price was barely above $800/oz.
Sibanye-Stillwater had already kicked the tyres at Lonmin, even before it bid for Stillwater Mining in December 2016, but with the operational levers failing to win for Magara the stability he wanted at Lonmin it was time to act.
The way he describes it, the company sought a partner for about half of its downstream processing capacity, a move that would shore up the balance sheet but also force Froneman's hand. It was also important that if Lonmin was going to transact with a buy-out partner, it should be before the market got wind of the possible alternative of a right issue which would depress Lonmin's value.
"Instead of saying we would wait for Sibanye until they were ready, we decided we would go straight to operational review because once there is genuine interest to those who wanted to buy our downstream [processing/refining capacity], Sibanye would have to jump, and they did," says Magara.
Magara describes the negotiating relationship with Froneman as a good one. Quite what AMCU president, Joseph Mathunjwa, would make of the transaction was another matter. Mathunjwa and Froneman are cut from similar cloth of conviction and determination: both tend to think in absolute goals.
Magara said Mathunjwa's reaction was to think the merger was "white monopoly capital". He wanted to know if Magara would play a role in the merged company – he doesn't – and if there was any other black business participating in the deal (there weren't). "I could sense from the way Froneman and Mathunjwa were talking that they were not perhaps on the same page," said Magara.
That relationship is still in the crucible.