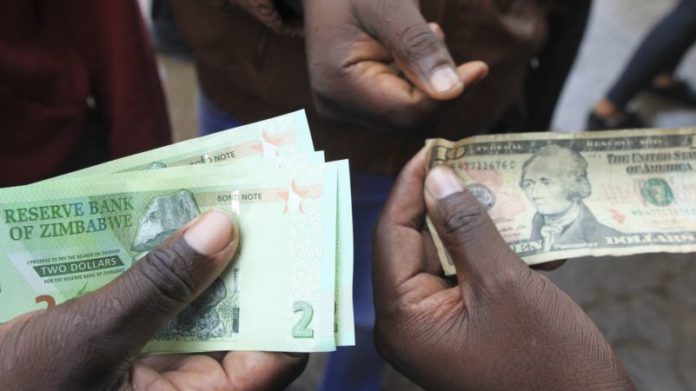 CONDITIONS for mining companies in Zimbabwe have improved materially since the new government headed by President Emmerson Mnangagwa came to power, but there are three key issues the country's miners are still uneasy about.
Two of those involve getting the reforms announced publicly by government; in particular, the dropping of the 51% indigenisation ownership requirement for platinum and diamond mining companies, signed officially into law along with concern that the country's current dual currency arrangement could spiral out of control into renewed hyper-inflation.
The third issue is access to greater amounts of hard currency in US dollars – called FCA dollars in Zimbabwe – that the mines are earning from their export revenues, but much of which they have to hand over to the Reserve Bank to meet Zimbabwe's desperate need for foreign exchange.
In return they receive RTGS dollars – known locally as "zollars" or "swipe money" because it is most widely used for electronic transactions – which are only accepted inside Zimbabwe and which are rapidly depreciating in value against the US dollar.
The issue of Government "… putting its money where its mouth is" and enacting the legislation required to back up the reforms it has announced became apparent at the Harare Indaba – Investing in resources and mining in Zimbabwe – which was held in Johannesburg in April.
Zimbabwe deputy mines minister, Polite Kambambura, repeated previous statements made by Government ministers that it would scrap the requirement that platinum and diamond miners had to sell 51% of their operations to Zimbabwe citizens.
Yet Batirai Manhando – president of the Chamber of Mines of Zimbabwe – speaking straight after Kambambura, commented the Chamber wanted to see the existing indigenisation regulations officially scrapped and replaced with the new measures "so that industry players will come in".
Kambambura retorted that this would happen "very soon, like yesterday" but, as of early June,  there was still no sign of the new legislation being enacted.
CURRENCY CRISIS
These issues were subsequently raised by James Maposa, chairman of Anglo American Platinum's (Amplats) Unki mine in May at the official opening ceremony for Unki's new smelting plant which will upgrade the platinum concentrates produced by Unki into higher value smelter matte.
Maposa, addressing an audience which included President Mnangagwa and mines minister, Winston Chitando, commented: "Unki must be profitable for it to improve people's lives, pay taxes and contribute to the upliftment of our host communities.
"We would like to continue discussions we have already started with government to help the mine survive and prosper. The current 50% forex retention remains a challenge. Electricity tariffs and some outstanding regulatory issues, in particular the indigenisation policy for the PGM sector, are all issues that we are engaging with Government on and are confident that we'll be able to find solutions to allow further growth in the sector."
The new Zimbabwe leadership has a lot on its plate to deal with, which they are working their way through
The key point is that, despite all this, Amplats has still invested the $62m required to build the new smelter because the Unki mine, like Impala Platinum's Zimplats and Mimosa operations in the country, are doing well; better in fact, than nearly all their operations in South Africa.
The platinum producers are also in a more favourable financial position than Zimbabwe's gold miners because they have retained control of the marketing side of their business and are able to sell their products through their own channels before bringing the receipts back to Zimbabwe.
They also appear to have more leeway in negotiating the amounts they can retain in FCA dollars with the Reserve Bank.
The gold miners have to sell their gold up-front to a state-controlled entity, Fidelity Printers and Refiners, through an arrangement which, until this year, paid them less than they would have got selling on their account.
That, combined with the forced RTGS substitution for the real dollars they should have been given, resulted in the temporary closure of several gold mines owned by Rio Zim. Other mines owned by Mzi Khumalo's Metallon group were put on care and maintenance "… because of the unsustainable costs of running them without proper compensation for its proceeds from the Government of Zimbabwe."
That changed in May when Fidelity introduced a "gold support price" equivalent to $1,368.58/oz of gold which was greater than ruling market prices for gold and was clearly intended to encourage greater production given the government's hugely ambitious plans to boost the country's annual gold output from around 30t currently to 100t by 2023.
According to Impala Platinum corporate affairs executive, Johan Theron, "… the new Zimbabwe leadership has a lot on its plate to deal with, which they are working their way through.
"Our view is to be patient and allow them the time to do this. It would be far worse for them to bring in new legislation and then subsequently decide to change it. We would far prefer something that is sustainable."
Theron sounds more wary over the country's dual exchange rate system where the rate between the RTGS currency and the US dollar is being managed by the Zimbabwe Reserve Bank, but the official rate is rapidly being made academic by the soaring black market rate.
Currently, at the beginning of June, the official rate was US$1 to $3RTGS, but the street rate was around US$1 to $5 RTGS. The problem is that local prices for everything are being charged at the "street" rate so companies and workers getting paid at the official rate are rapidly finding themselves worse off financially.
Theron comments that "… this is a leakage of value that cannot be made up. That could easily get out of hand and at some point make the business unviable."
His concerns are all too real given Zimbabwe's experience with the runaway hyper-inflation that took place in the early 2000s leading to the scrapping of the Zimbabwe dollar and adoption of the US dollar in 2009.
According to Steve Curtis, CEO of Caledonia Mining which runs the Blanket gold mine: "Provided the RTGS to FCA dollar exchange rate is efficient and Blanket continues to receive the amounts due promptly, in full and at an exchange rate which reflects economic fundamentals, management is optimistic the revised policy may create a more stable environment."