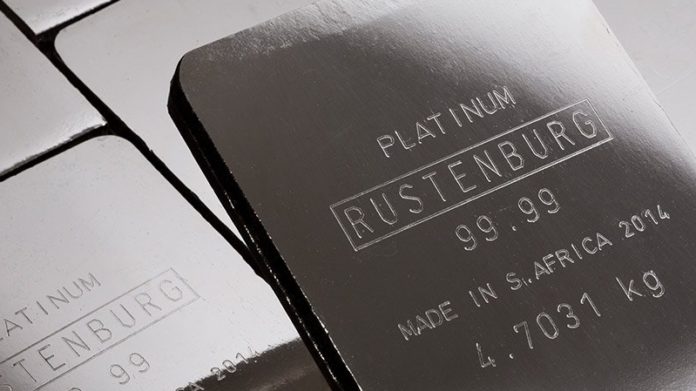 THERE would be a narrowing in the platinum deficit to 345,000 ounces following a significant pulse this year in demand for platinum in exchange traded funds (EFTs), according to the World Platinum Investment Council (WPIC).
Commenting in its second quarter report, the council described conditions of "unprecedented investment demand" for platinum for the first half of 2019: of 855,000 oz in investment demand, some 720,000 oz was in ETF purchases.
The platinum price pushed through $900 per ounce this month, the first time it has reached that value since June 2018. According to Trevor Raymond, director of research at the council, the price improvement indicated a recognition among investors of platinum's precious metal characteristics.
"There's absolutely no reason why platinum should trade at a discount to gold," he said in an interview on September 5. Platinum traded at its largest discount to gold – some $600/oz – in almost 30 years earlier this year. Raymond said investors had woken up to platinum in an environment where investors have sought a store of wealth.
There has been a big move from active to passive funds which relies on indexation. However, many indices don't hold platinum so investors have been making the decision to move into platinum ETFs, he said.
"Investors have seen prices for platinum decline for the past seven years so they wanted out of the market. They wanted to hear good news on diesel," said Raymond. Now, however, in an environment of negative-yielding bonds, investors have turned to the notion of a store of wealth and after gold have turned their attention to platinum.
The question of whether platinum fulfils store of wealth functions for investors is a point of debate. According to a report by RMB Morgan Stanley, platinum's prospects will be dictated by its industrial demand in the long run.
It added that platinum was less liquid than gold which would hamstring is ability to trade as a currency. Some three million oz are held in platinum ETFs compared to the 75.6 million oz held in gold ETFs. "The size of the platinum investment market is … significantly smaller relative to gold … and platinum has not (as yet?) found widespread support as a central bank reserve asset, even in South Africa," it said in a report on August 13.
'DIESELGATE'
Raymond also said that so-called 'dieselgate' is "completely behind us now". This follows recent testing of very low noxious emissions from platinum autocatalysts in diesel cars. In 2015, the US Environmental Protection Agency said German automaker Volkswagen Group had violated clean air legislation by installing cheat technology on its autocatalysts.
The incident raised consciousness about the risk of diesel powered cars to the environment and led to a decline in purchases, a development that impacted the platinum market.
Total demand for platinum in 2019 was forecast to rise 9% compared to 2018 to some 8.05 million oz. This would "… more than offset(s) expected demand decreases in the automotive and jewellery segments of 4% and 5% respectively," it said.
Total supply is expected to be 4% higher compared to 2018 with increases in mining supply and recycling expected. Some of the increase is down to release of locked up metal: Impala Platinum said on September 5 it had released about 70,000 oz and would sell a further 100,000 oz over the next two years.
Raymond said he didn't want to become company specific, but the WPIC was duty-bound to raise the risk of potential supply side disruptions in South Africa related to power interruptions and wage negotiations.